BWW Review: ORFEO & EURIDICE at OTSL Dazzles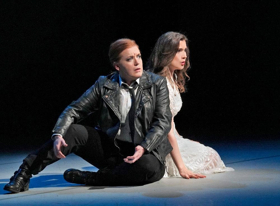 You know the story: at the marriage of Orpheus and Euridice the bride dies of snake-bite. Orpheus so loves her that he proceeds to Hades to demand his wife back. The gods have dictated that she may return to life with Orpheus, but only if he does not look back at her as she follows him up from the world of the dead.
On the opening night of Gluck's Orfeo & Euridice at OTSL a terribly ironic incident occurred. The audience had been treated to an astonishing first act by Ms. Cano and her colleagues; we had enjoyed a pleasant intermission on the beautiful grounds at OTSL, and we sat eagerly awaiting Act 2. We waited. Then we saw all the patrons in an upper bay calmly leaving the area, under the direction of emergency medical technicians. In a far corner of that bay a patron had suffered cardiac arrest; EMT people were, like Orfeo, valiantly striving to bring a loved one back across that mortal threshold.
The audience patiently waited.
Act 2 was cancelled. We were invited to attend a subsequent performance.
Christoph Willibald Gluck was an opera reformer. In his day opera seria had grown ornate and cluttered, filled with virtuoso flourishes and irrelevant sub-plots and bits of ballet--like barnacles or like parasitic vines, strangling the opera's story. Gluck's goal was to return all aspects of opera into the service of the drama--overture, arias, recitative, dance--everything. In this he foreshadowed Wagner's urge to create a truly unified art form.
Orfeo ed Euridice goes far toward this end. Nothing is irrelevant to the plot. The opera was originally written for a castrato (much the rage in Gluck's day). But it has gone through several revisions--by Gluck, Liszt, J.C. Bach, and (most notably) Berlioz. The central role has been given to castrati (both mezzo and soprano), to haute contres or counter-tenors, and finally to mezzo-sopranos.
Opera Theatre St. Louis, with conductor Paul Vallet and stage director Ron Daniels, uses the latest, polished version of the text to great success. The overall visual concept is a kind of hippie/carnaval. Orfeo, in black jeans, black leather jacket, skinny black tie and a pony-tail, is a rock superstar.
The set, by Ricardo Hernández, is simplicity itself--great plain walls onto which quite wonderful projections appear. These are sometimes superbly realistic huge drifting clouds, sometimes the gloomy red vapors and flames of the underworld. Once there is a great face of Euridice which only after long moments blinks, then moves ever so slightly. Designer Peter Nigrini does beautiful work with these projections. Lighting designer Christopher Akerlind gives lovely balance and flow to the evening.
We begin at Euridice's funeral. Center stage we see a gigantic head-shot of the deceased. Mourners carrying lanterns drift in through the audience--all in black, some with black balloons. Flowers and stuffed toys are laid beneath the picture of Euridice. There is gorgeous chorus work, the voices blending with the low strings, while Orfeo wails his lament for his beloved, his voice soaring above the chorus.
Amore, the god of love, appears in the form of a charming young blonde hippy teen-ager with ragged jeans, backwards ball-cap, a "LOVE" T-shirt--and with gaudily lighted wings. Here Maria Valdes shows a beautiful voice--not as powerful, perhaps, as that of Ms. Cano, but in her higher range she gives Orfeo a run for his money.
In one deeply moving aria Orfeo is alone on an empty gray stage accompanied by a live oboist (Philip Ross) standing in an upstage corner. It is a poignantly simple duet, instrument and voice.
In the underworld we see a bit of sky--distant, distant, beyond the earthen rings through which we've descended. And here Jennifer Johnson Cano seizes one of the most challenging arias in all of opera and she flies to glory with it. In an astonishing coloratura display she warbles like a skylark. She sprinkles showers of notes with laser-like precision. It's a brilliant tour-de-force.
In the underworld Orfeo is confronted by a crowd of angry furies. Here the chorus is joined by members of the Big Muddy Dance Company. Cost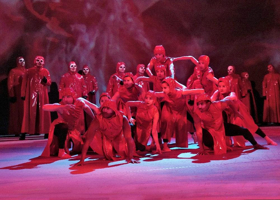 umer Emily Rebholtz gives these fiery spirits flowing shiny red slickers and caps. With choreography by Katerzyna Skarpetowska the corps de ballet does beautiful work throughout the evening--always at points appropriate to the plot. As furies they swirl and flurry and writhe, but then they succumb to Orfeo's musical charms. They wilt, they melt, they let him pass.
In act two we enter the peaceful Elysian Fields. All is soft gray. The dancers, in long, flowing "glamour slacks" execute many small graceful romantic pas de deux--suggesting the binary love of Orfeo and Euridice. Flautist Andrea Kaplan beautifully supports this dance .
And we meet the lovely Andriana Chuchman as Euridice. Miss Chuchman, who did such fine work in Shalimar the Clown two years ago, once again sings most beautifully. Again she dances--this time with the shades in the underworld.
We follow the lovers on their way to the mortal world, the chorus and dancers now draped in diaphanous white shrouds--like rather spooky brides. Of course Euridice pleads for Orfeo to look at her and, at last, he does so. She dies again, whereupon Orfeo draws a pistol to kill himself.
But . . .
Gluck was writing this opera to celebrate the emperor's name-day. A tragic ending just would not be acceptable. So (holy deus ex machina!) the god Amore arrives again to announce that he was really just kidding; Orfeo has so proved his love that Euridice will be allowed to join him again in the mortal world. Amore shrugs off his wings and saunters off stage.
The big finale is a great carnaval celebration. Gaudy, glitzy costumes! Great gilt letters--"A M O R E"--gleam in the background.
All of the couple's fans and groupies arrive in tie-dies and cut-offs and Sgt. Pepperish festive gear to distribute bright balloons on sticks throughout the audience. There's a graceful little gavotte, and . . .
HAPPY ENDING!
Jennifer Johnson Cano, a home town girl, totally owns this role, this show. She's almost always on-stage singing her heart out. She makes this a truly . . .
GLORIOUS PRODUCTION.
(photos by Ken Howard)