Click Here for More Articles on OPERA - NEW YORK CITY
Brooklyn Opera Works to Present First Annual LIEDERABEND: ART SONG RECITAL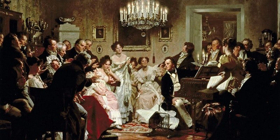 Brooklyn Opera Works presents their first annual Liederabend: Art Song Recital on December 19, 2017 at 7:30pm at BMS Playhouse, 126 St. Felix Street, Brooklyn, NY.
Tickets are $15 and are available at (718) 638-5660 or www.eventbrite.com/e/liederabend-art-song-recital-tickets-40798568617.
Brooklyn Music School's BOW (Brooklyn Opera Works) program presents their first annual Liederabend, a celebration of classical art song. This year's concert will showcase some of the most beautiful selections of German Lieder, performed by the talented young artists. Produced by the Brooklyn OperaWorks program at BMS, this recital is a perfect way to spend a winter evening. The program includes a selection of songs by Schubert, Strauss, Brahms and Schumann.
After the concert, audience members are invited to enjoy a glass of German mulled wine, a celebrated Christmas drink!
"You noble art, in how many dark hours
When life's mad tumult wraps around me
Have you transported me into a better world"
- "An die Musik" -F. Schubert
Brooklyn Opera Works (BOW) is dedicated to providing conservatory-level opera training and performance opportunities to new and emerging artists, as well as presenting lesser known operas with a fresh and engaging presentation. We encourage talented vocal artists who come from a range of different traditions and backgrounds to explore the operatic art form, while developing future audiences.
The Brooklyn Music School views music and performance as the birthright of all people, an essential way that human beings connect with others and explore their creativity. The study of music has been demonstrated to enhance academic learning and helps to develop discipline and confidence that will serve children well throughout their lives. As part of the vision of reinventing the community music school for the 21st Century, BMS is dedicated to:
* Making high quality musical instruction approachable and affordable to a wide range of students,
* Creating frequent opportunities for performance for our students and cultural enrichment for our community,
* Representing a wide range of musical traditions, including European, African, Middle Eastern, and American to represent the diversity of Brooklyn's musical talent, and
* Offering a warm and welcoming space for families and individuals to explore new talents and make lasting friendships.
For more information, visit www.brooklynmusicschool.org.
Related Articles
More Hot Stories For You