Bronx Opera Company Presents LADY IN THE DARK Beginning This Weekend
Performances run January 28 - February 5.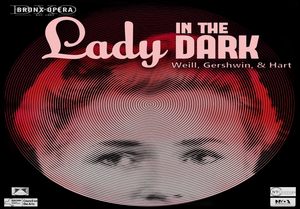 The Bronx Opera Company will open its 56th season with the landmark musical LADY IN THE DARK, music by Kurt Weill, lyrics by Ira Gershwin, and book by Moss Hart.
"The Saga of Jenny," "My Ship," and "Tchaikovsky" are just three of the great songs in the play that premiered to thunderous applause at the Alvin Theatre on Broadway January 23, 1941.
The original cast starred Gertrude Lawrence, Danny Kaye, Victor Mature, MacDonald Carey, Bert Lytell, Natalie Schafer, and Margaret Dale. Other notables included in the premiere were Hassard Short, director; Albertina Rasch, choreographer; Sam H. Harris, producer; and Maurice Abravanel, conductor.
According to reports, Gertrude Lawrence stopped the show at every performance with her rendition of "The Saga of Jenny," and Danny Kaye emerged as a star, brilliantly executing the tongue-twisting lyrics to "Tchaikovsky," originally intended to have instrumental accompaniment but finally delivered a cappella, as the orchestra could not keep up with him!
Kurt Weill (1900-1950) was born in Dessau, Germany to Jewish parents and had a distinguished compositional career in his home country until he was obligated to leave there in 1933 due to the Nazi seizure of power. He and his wife Lotte Lenya (1898-1981) eventually settled in the United States. Here he met Moss Hart (1904-1961) who was having a fine career as a playwright and later directed celebrated Broadway shows, including My Fair Lady (1956). Neither Hart nor Weill were interested in creating a classic Broadway musical and, as a result, Hart devised a plot about a woman under the care of a psychiatrist, which was loosely based on his own psychoanalytic experiences. Weill was interested in setting the story to music and the two recruited Ira Gershwin (1896-1983), who had gone into retirement after the tragic early death of his younger brother George, to create the lyrics. Originally entitled "I Am Listening," the show, now called "Lady in the Dark, opened in Boston December 30, 1940 and on Broadway at the Alvin Theatre on January 21, 1941. A distinguished and enthusiastic audience, including Richard Rodgers, Oscar Hammerstein, and Igor Stravinsky, attended the New York premiere and the show was a great success, running for 467 performances.
Bronx Opera Company was founded in 1967 by artistic director and music director, the conductor Michael Spierman. The Company is a member of the New York Opera Alliance.
Bronx Opera Company performs two operas each year, one lesser known work and an opera from the standard repertory. All productions are sung in English with full orchestra and chorus. Additionally, the Company presents concerts of opera excerpts throughout the year in the Bronx, Manhattan, and surrounding areas.