Click Here for More Articles on OPERA - NEW YORK CITY
BWW Review: Puccini's Minnie is No Mouse in NY City Opera's Lively FANCIULLA DEL WEST
The last time the Met did Puccini's LA FANCIULLA DEL WEST--GIRL OF THE GOLDEN WEST--it was such a dispiriting affair that I was ready to write it off as past its expiration date. New York City Opera to the rescue, opening its season with a charming revival of the Italian master's work about the California Gold Rush and the tough-babe-with-a-heart-of-marshmallow who runs the saloon.
It reminded us that FANCIULLA (libretto by Guelfo Civinini) is a first-rate opera with a rich, nuanced score, following MADAMA BUTTERFLY in the Puccini canon, both based on plays by American David Belasco. (It also pointed out where some of Andrew Lloyd Webber swiped some of his best music in PHANTOM OF THE OPERA.) But it also gave us a trio of singers: soprano Kristin Sampson as Minnie, the saloon keeper; tenor Jonathan Burton as the bandit-in-disguise, Dick Johnson; and baritone Kevin Short as Sheriff Rance, all well worth hearing again, along with a good supporting cast that kept the opera moving under director Ivan Stefanutti's traffic direction.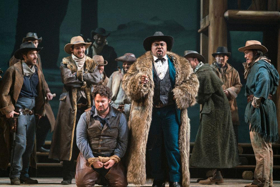 While Sampson's Minnie could have used a little more directorial assistance from Stefanutti, she gave a convincing, straightforward portrayal that was hard not to take to heart; her steely top and high B's helped show who was in charge in the miners' camp and but her mellow middle range made it clear why everyone was in love with her. (Of course, as the only woman in the camp she has no competition--except for the minor role of the native American Wowkle, nicely sung by mezzo Hyona Kim.)
Burton's Dick Johnson made some beautiful music as Dick Johnson (aka Ramerrez), particularly in his final aria "Ch'ella mi creda," but he too could have used a stronger hand in showing the tough guy part of his character. Nonetheless, he and Sampson made a fine couple with good chemistry. It was no wonder that Short, even with his muscular bass-baritone working full throttle as the sheriff, had a tantrum when Johnson--who knew Minnie from a different life--showed up and threw the dynamics of the camp off kilter.
City Opera's fine casting didn't stop with the three principals. At the top of the list: The mellow baritone Alexander Birch Elliott was first-rate as Sonora, another of Minnie's would-be suitors, whether the role called for him to be fiery or, ultimately, a nice guy and bass Darren Stokes did well as the homesick miner, Jim Larkens.
James Meena led a propulsive performance of the score with the City Opera Orchestra, even though, as always, they could have used some additional rehearsal time. Michael Baumgarten, the lighting and projection designer, showed up some gorgeous images for the Sierra Mountains that formed the background of the production. (Director Stefanutti also served as the set, projection and costume designer, which seems to have included a stop at Macy's Fur Vault for Johnston and Rance.) Robert Westley was indispensable as Fight Director in this tale of the old West.
This may not have been the ultimate performance of FANCIULLA, but it reminded us why it's a much better opera than we might think it is. That's good enough for me.
###
City Opera's last performance of LA FANCIULLA DEL WEST this season is on Tuesday evening, September 12 at 7:30pm, at Jazz at Lincoln Center's Rose Hall, West 60th Street and Broadway. The production is a co-venture of the Teatro di Giglio in Lucca, Italy, the Teatro Lirico in Cagliari, Sardinia, Italy, and Opera Carolina in Charlotte, North Carolina.
City Opera's next production is the NY Premiere of a chamber adaptation of Tobias Picker's DOLORES CLAIBORNE, based on the Stephen King novel, directed by the company's General Director, Michael Capasso. It will be performed at the 59E59 THEATERS, 59 East 59 Street, New York, NY, on October 22, 24, 26, 28 and 29, 2017.
Related Articles
Richard Sasanow has been BroadwayWorld.com's Opera Editor for more than five years, with interests covering contemporary works, standard repertoire and true rarities from every era. (read more about this author...)