BWW Review: Of Fairy Tales and Trials at Opera Philadelphia's WAKE WORLD and MAGIC FLUTE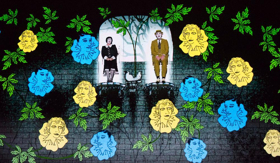 Superficially, Wolfgang Mozart's THE MAGIC FLUTE (or DIE ZAUBERFLOTE for you purists) and David Hertzberg's THE WAKE WORLD couldn't seem less alike, written more than two centuries apart and with very different musical vocabularies. Taken together, they stretch the definition of what makes an opera. (And how...) Yet, as two of the main attractions of Opera Philadelphia's daring new O17 opera festival, they have a surprising amount in common--including spectacular scores that demand to be heard again and again.
What characteristics do they share? Here are a few:
- Both have been written by musical prodigies (Mozart, of course, composed at age five, while Hertzberg considers himself a late-bloomer for starting at 7).
- Both are fairy tales (at least of a sort) and demand that their central characters survive trials as part of their journeys.
- Both pose extreme vocal challenges for the sopranos at the top of their range (met brilliantly here, I would add, by Olga Pudova as the Queen of the Night and Maeve Hoglund as WAKE WORLD's Lola).
- Both have religious undertones, though the Mozart production team disdained the Masonic aspect of the opera and Hertzberg chose to play down the more outre aspects of its source material by Aleister Crowley, a British master of the bizarre who, among other things, founded the religion of Thelema.
Hertzberg's THE WAKE WORLD
Let's start with Hertzberg's WORLD, produced jointly by Opera Philadelphia and the Barnes Foundation located in central Philadelphia, one of the great art collections, and presented in its Annenberg Court, directed on a catwalk by DB Schlather. The opera in one act--but make no mistake, this is a major work--is "drawn out of the seed" of Crowley's eponymous story by the composer who served as his own librettist.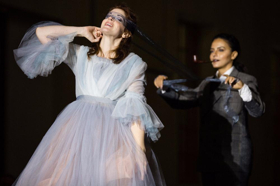 As staged in this hall devoid of color--in contrast to a museum filled with it--enter an assortment of characters in blues and pinks, reds and tweeds, some of them seeming to have leapt off the walls in telling the story of young woman's (Lola) quest for the prince of her dreams.
Whatever one thinks of the presentation, staged by Schlather in a manner that was as eccentric as (though less didactic than) Barnes or Crowley themselves--with the audience wandering around the hall, following the catwalk on which of the staging occurred, trying to get close to a story and its inhabitants that seemed determined to keep us at arm's length--Hertzberg's score was thrilling, rapturous and used a language that listeners can carry away with them.
Hertzberg told me that the music he really loves and come back to is Wagner, Bellini, Mozart, Verdi (maybe a little COQ D'OR?); his own music, however, manages to be totally engrossing though it doesn't necessarily sound like any of them. "I love color," he told me, "especially when it comes from harmony, and music that I feel has breadth and line, where you can feel large arcs and shapes, though not necessarily in primary colors." His score for WORLD succeeds wildly in its melodic impulse--no more than in its final duet for Lola and her prince (though near the end it became somewhat cacophonous).
His vocal writing is precise and clear in its intentions, showing off the glories of soprano Hoglund's Lola, in a deeply demanding role that continued to grow in power throughout the piece. The prince of mezzo Rihab Chaieb (looking like a portrait of Barnes himself) was impressive as well. Last but certainly not least, was Hertzberg's grand work for a 16-part mixed choir taken from the Opera Philadelphia chorus (and a subgroup of seven characters drawn from the choir). I especially like bass James Osby Gwathney, Jr. as the man in the azure coat and soprano Jessica Beebe's Luna/Hecate, with her puff sleeved red dress looking like she's jumped out of a Rousseau portrait.
Elizabeth Braden, who was not only the chorus director but conductor of the chamber ensemble for which the piece was scored (a violin, French horn, trumpet, piano/keyboard and percussion), showed deft insight and a strong arm in leading the forces in this challenging score.
Mozart's MAGIC FLUTE
The festival's Mozart was a wonderfully funny production, combining live action and animation, that originated at the Komische Oper in Berlin (though co-produced by the LA Opera and Minnesota Opera). It has a roaring '20s concept by the UK's 1927 Co-Artistic Directors Paul Barritt, who designed the animation, and Suzanne Andrade in collaboration with Barrie Kosky, Komische Opera's Artistic Director. The imaginative stage/costume design were by Esther Lialas and lighting by Christopher J. Hetherington. Tobias Ribitzki was the magical stage director.
Love conquers all here in a vision out of the silent pictures era that also helps deal with what many consider the most problematic aspect of the opera: the spoken dialogue. Here, the editor's scissors and silent screen-style "intertitles" helped move the action along, where a long speech in German might have slowed things down. Yes, there was some editing on the musical end, but all was forgiven in a production that otherwise worked so well.
As it progressed, I kept wondering how the use of animation might have been hampering the performers, who had to be in place and often motionless for the animation to work around them. If they found it irksome, the audience was certainly never aware of it and, at the performance I attended on September 22, the house went wild at the end and deservedly so.
The cast was marvelous. At the top of the list for me was the utterly charming tenor Ben Bliss, a wonderful Prince Tamino; soprano Olga Pudova, a perfect black widow spider as the Queen of the Night; baritone Jarrett Ott, a delightful and funny bird-catcher Papageno (though some of his role seemed to have ended on the cutting room floor as did that of tenor Brenton Ryan's Monostatos). Soprano Rachel Sterrenberg was a sweet-voiced Pamina, while Peixin Chin was an authoritative Sarastro (though I prefer a more basso profundo sound in the role). The three ladies--attendants of the Queen of the Night--were marvelous: Ashley Milanese, Siena Miller and Anastasiia Sidorova--as were the three spirits, AJ Owens, Patrick Corcoran and Damian Ferraro. Marcus Deloach and Roy Hage exceled as the two armored men.
Conductor David Chares Abell led a fleet yet authoritative performance of the opera's orchestra, with chorus master Elizabeth Braden leading the sterling chorus.
All in all, the two operas showed how well the festival concept worked in Philadelphia and this brainchild of the company's general director and president, David Devan, certainly made its point about an alternative universe for opera lovers.
Next up: another world premiere, ELIZABETH CREE by Kevin Puts and Mark Campbell. Stay tuned.
Related Articles View More Opera

Stories