BWW Review: CHAMPION at Opéra De Montréal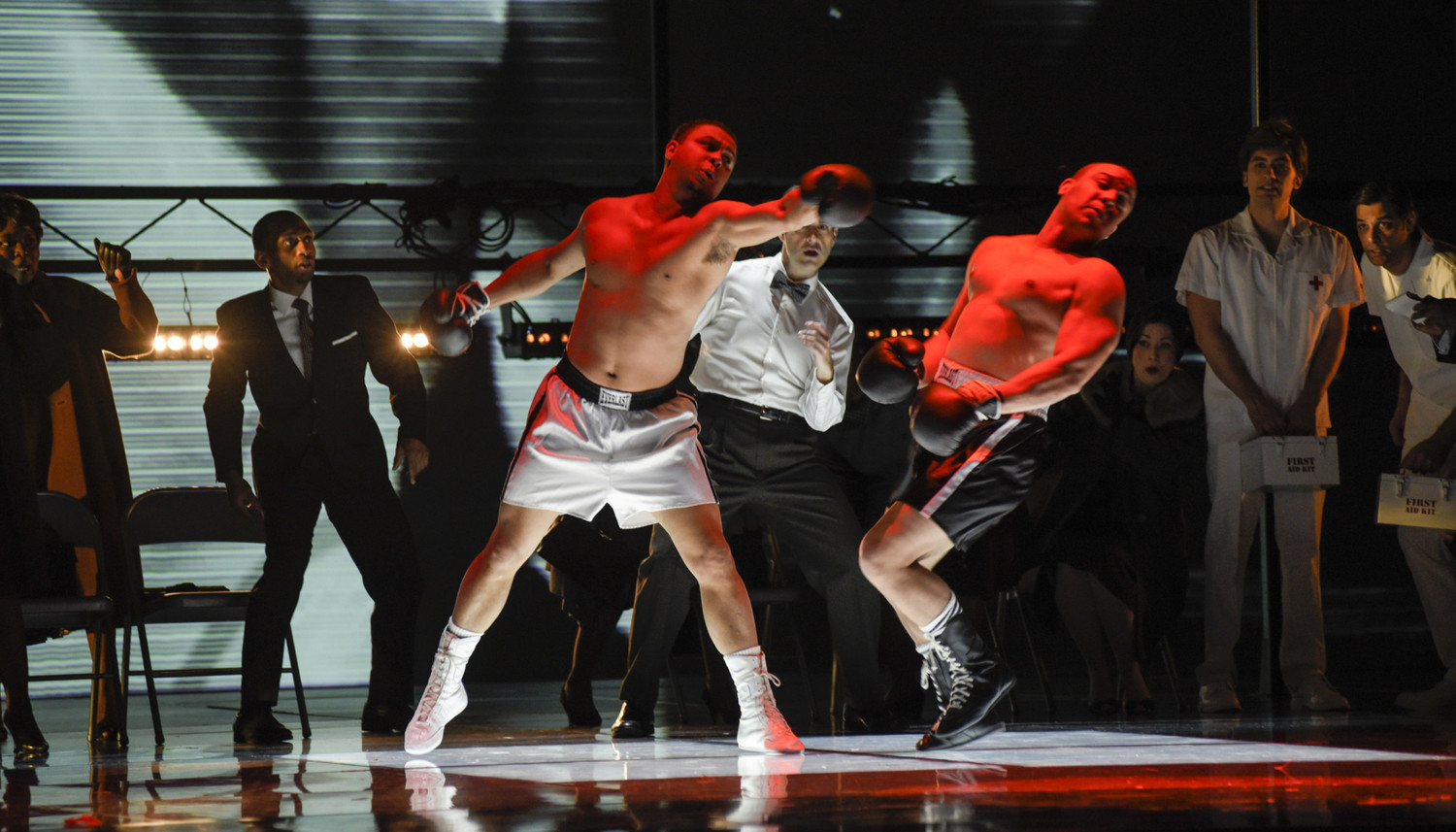 The Opéra de Montréal launched the Canadian premier of Champion on January 26th, 2019. The two-act, jazz-opera originally premiered at the Opera Theatre of St. Louis in 2013 and upon seeing it was brought to Montréal by Artistic Director Michel Beaulac.
Champion was first conceived of by Terence Blanchard, world-renowned jazz trumpeter and acclaimed film composer. Blanchard's experience is vast, including writing and performing credits in over 50 scores. Blanchard partnered with Librettist Michael Cristofer, a Pulitzer Prize-winning playwright, notable director and actor, to create Champion. Both artists bring a wealth of experience and wide range of expertise to this piece, resulting in a rich mixture of musical styles including opera, jazz and blues and rich, haunting themes of abandonment, fame, loss and isolation.
Champion is based on a true story, focusing on the life of welterweight prizefighting champion Emile Griffith, a respected and famous boxer whose life rapidly changed after accidentally killing his opponent, Benny Paret, in the ring. Griffith was also bisexual in a time when it was socially unacceptable and was known for having said: "I kill a man and most people understand and forgive me. However, I love a man, and to so many people this is an unforgivable sin."
The Opera depicts Emile at three different stages of his life: as a child, played by Nathan Dibula, as a strapping young man, played by Aubrey Allicock, and towards the end of his life, confused, punch-drunk and still struggling with the grief of having killed a man. The oldest version of Emile is played by Arthur Woodley, who carries the show with his sincerity and striking vocal talent.
The story follows adult Emile Griffith from the Virgin Islands to America, where he hopes to make something of himself. There, he finds his estranged mother, played by Catherine Daniel. Daniel knows how to make an impressive entrance; she immediately owns the stage providing, some much-appreciated comedy. The plot slowly moves toward the historic knockout moment, beginning with Emile's career as a hatmaker and progressing into his success as a boxer, following his rise and eventual fall from boxing royalty. Act II addresses the emotional aftermath Emile must endure as a consequence of having accidentally killed a man, as well as the negative social repercussions of being a bisexual man in the mid-20th century.
Overall this production manages to successfully immerse audiences in the different stages of life represented by each version of Emile, creatively and effectively playing with the concept of time. The plot is not linear, allowing characters to witness younger versions of themselves, adding depth and intensity to the already emotionally heavy narrative. Costume Designer, James Schuette, Scenery Designer Allen Moyer and Lighting Designer Christopher Akerlind provide thrilling visuals that support this transitions beautifully. Video projections, created by Video Designer Claude Webster, make for a stunning visual portrait, particularly Emile Griffith's home as a young boy. However, the overall tone of the show consistently remains on an emotionally trying note, with little respite or reprieve, despite several opportunities to do so. Moments of joy, celebration and forgiveness are overshadowed by the crushing weight the main character seems to bear throughout his long and complicated life. Perhaps that is how it should be, as these are relevant themes during contentious times and this opera serves as a reminder that the human condition is complex and fragile.
Champion was created by Composer Terence Blanchard and Librettist Michael Cristofer. It is presented in English with English and French subtitles. The show is presented at the Salle Wilfrid-Pelletier, January 26-29-31 and February 2, 2019 - 7:30pm
Cast:
Emile Griffith: Arthur Woodley
Young Emile Griffith: Aubrey Allicock
Emelda Griffith: Catherine Anne Daniel
Benny "The Kid" Paret: Victor Ryan Robertson
Howie Albert: Brett Polegato
Luis Griffith: Asitha Tennekoon
Blanche/Sadie: Chantale Nurse
Conductor: George Manahan

Stage Director: James Robinson

Sets: Allen Moyer (Washington National Opera)

Costumes: James Schuette (Opera Theatre of Saint Louis)

Lighting: Christopher Akerlind

Orchestre symphonique de Montréal/Opéra de Montréal Chorus

Production: Washington Opera
Photo Credits: Yves Renaud