| | |
| --- | --- |
| BIO: It has been 28 years since the heavy metal holocaust known as GWAR burst upon our world in an explosion of blood, guts, and screaming steel. In this time they have revealed themselves not only as the un-disputed masters of "shock rock", but also as an international cultural icon that has both touched the lives, and in some cases ruined the clothing, of many thousands of people. Often copied, never tamed, GWAR has set a standard of consistency in their work that is unmatched in rock and roll history. This year sees GWAR release their 12th original album, GWAR's Bloody Pit of Horror, and continue in their non-stop tour schedule until the world is finally brought into groveling submission, and GWAR at last attains its glorious destiny, whatever that is. For those of you who were just born, GWAR is a group of alien monsters who were banished to Earth millions of years ago as punishment for their cosmic crimes. GWAR was frozen in the wasteland of Antarctica, to wait for the cosmic summons that would herald their return to the stars. But fate intervened, and GWAR was de-thawed by global warming. Led (poorly) by pig-nosed lead singer Oderus Urungus, they began wandering the world, where they were quickly discovered by music mogul and mob boss Sleazy P. Martini. Transformed into the ultimate heavy metal band, they set about the business of destroying the human race with this savage sound, throwing great "concerts" where thousands of humans would be lured to their deaths. But this commotion would not go un-noticed in the vastness of the cosmos, and soon GWAR was under attack from a huge variety of both super and not-so powered adversaries. A GWAR show will see slaughter wrought upon anything within sword's reach as GWAR defends their blood-soaked crown of metallic opulence from the legions of the lame that would seek to sully such things, and deprive YOU of the sick fun you so desperately need, need to make existence in this diseased and miserable world somehow bearable, even with an axe through your skull. In the latest chapter of their epic adventures, GWAR has released GWAR's Bloody Pit of Horror, their most mind-melting musical masterpiece to date, and embarked on a worldwide Bloody Tour of Horror, designed to zombify and enslave the entire human race and provide GWAR with the army they need to re-invade the cosmos, destroy and devour its inhabitants, and claim the universe as their very own pleasure palace. Will GWAR rise above the petty indulgence of their colossal drug habits and finally attain the intergalactic dominance that they crave, or shall they once again crash and burn in a cataclysmic smear of roasting flesh and flaming debris? Only one thing is for certain—GWAR rules! | |
Latest Articles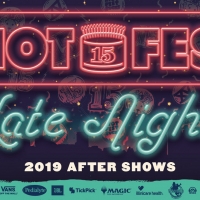 Riot Fest Announces 2019 Late Night After Shows
by TV News Desk - August 08, 2019
In celebration of its 15th birthday, Riot Fest has already announced an incredible festival lineup with limited $49.98 single-day tickets, featuring the likes of Blink-182, Slayer's final Chicago performance, and the rare opportunity to see the recently reunited Bikini Kill. Today they up the ante w... (
more...
)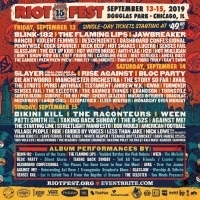 Riot Fest Announces 2019 Daily Lineup
by TV News Desk - July 24, 2019
Riot Fest has unveiled its daily lineup for the 2019 festival, with a very special deal: single-day tickets will be priced at $49.98 for a very limited time. 1-day and 2-day tickets are on sale now.... (
more...
)

Live Nation Canada Announces First Annual CHAOS AB
by TV News Desk - April 02, 2019
Live Nation Canada is proud to announce the first annual CHAOS AB, Alberta's newest rock festival. Taking place at Kinsmen Park in Edmonton, AB on Friday, July 26 and Saturday, July 27, the inaugural CHAOS AB will feature headlining performances from Rob Zombie, Marilyn Manson, Disturbed, Slayer – f... (
more...
)

Riot Fest Announces Daily Lineups and Single Day/2 Day Tickets, On Sale Now
by BWW News Desk - September 07, 2018
After announcing new headliners Weezer and Run The Jewels yesterday along with Riot Fest performers Taking Back Sunday, the festival has released the daily schedules and single day/two day tickets, which are on sale now. These artists join headliners Beck and Incubus, alongside Elvis Costello & The ... (
more...
)

The Growlers Announce New Album and BEACH GOTH POP UP WEEK 2
by TV News Desk - July 26, 2018
The Growlers are thrilled to present Beach Goth Pop Up: WEEK 2 in Downtown LA, Thursday 7/26 - Sunday 7/29 at 1700 Naud Street. Free and open to the public on a first-come, first-served basis, it redefines what a pop-up can be, bringing The Growlers' signature psychedelic vibes to their fans in an i... (
more...
)

The Growlers Launch BEACH GOTH POP UP in LA
by TV News Desk - July 16, 2018
Live bands! Drag queens! Marionettes! The Growlers are excited to announce their very first Beach Goth Pop Up in Downtown LA, open exclusively on the weekends of Thursday 7/19 - Sunday 7/22, and Friday 7/27 - Sunday 7/29. Nestled in the industrial paradise of 1700 Naud Street in downtown's Cornfield... (
more...
)

The Growlers Announce BEACH GOTH TOUR 2018
by TV News Desk - June 19, 2018
The Growlers take their swirling psychedelic carnival on the road this fall, bringing their Beach Goth Tour 2018 across America and into the hearts, minds, and concert halls of several lucky European cities. Led by singer Brooks Nielsen, music director Matt Taylor and guitarist Kyle Straka, the band... (
more...
)

The Growlers Reveal Lineup for BEACH GOTH 2018
by TV News Desk - June 12, 2018
The Growlers are bringing Beach Goth 2018 to Los Angeles State Historic Park on Sunday, August 5, 2018, this time with a legendary lineup and multiple performance spaces, all compressed into a single day's epic event. Gates open at 1pm, with all tickets priced at $66 each (available for purchase at ... (
more...
)

Blink 182, Elvis Costello, Beck, & More to Play Chicago's Riot Fest this September
by TV News Desk - May 31, 2018
Every year, music fans from around the world anticipate who'll be playing at Riot Fest, the Chicago festival made famous for diverse, innovative lineups, set amongst a fan-friendly three-day celebration of punk, rock 'n' roll, hip-hop, metal, indie rock, roots music, and just about everything in bet... (
more...
)

Nerd Rapper MC CHRIS Announces North American Tour with Special Guests Bitforce
by TV News Desk - February 21, 2018
 LA -based nerd rapper mc chris, announces his 2018 North American Spring Tour with special guests Bitforce. As a nerd rapper pioneer, being one of the first rappers to rap solely about Nerd Life, mc chris #onlydoescoolshit, so you can expect his tour to be hilarious, and cool.... (
more...
)
EMP Label Group Creates Ariescope Music Imprint with Adam Green
by BWW News Desk - July 24, 2017
EMP LABEL GROUP, the label founded by Megadeth's DAVID ELLEFSON, has signed a deal with iconic horror director/writer/producer ADAM GREEN (Hatchet, Holliston) to create ARIESCOPE RECORDS, Green's own label imprint which will be manufactured, marketed, and distributed by EMP.... (
more...
)