The Growlers Reveal Lineup for BEACH GOTH 2018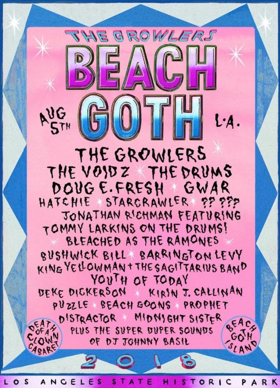 The Growlers are bringing Beach Goth 2018 to Los Angeles State Historic Park on Sunday, August 5, 2018, this time with a legendary lineup and multiple performance spaces, all compressed into a single day's epic event. Gates open at 1pm, with all tickets priced at $66 each (available for purchase at 10am this Friday, June 15, at the event website). As always, costumes are encouraged.
The Main Stage features headliners The Voidz (with Julian Casablancas, producer of The Growlers 2016 LP 'City Club'), The Drums, and of course a party-closing set from The Growlers. Additional acts include Jonathan Richman featuring Tommy Larkins on the drums!, indie breakout songstress Hatchie, shock rock metalheads GWAR, rapper and beatbox pioneer Doug E. Fresh, blistering 80s hardcore purists Youth of Today, dancehall superstars King Yellowman and The Sagittarius Band and Barrington Levy, the Geto Boys' very own Bushwick Bill, and many more.
This year also marks the return of two fan favorite experiences: Beach Goth Island and Death of a Clown Cabaret. With its sandy shantytown vibes, palm trees, and copious amounts of pale lager,Beach Goth Island is a dubbed-out reggae paradise, featuring the tropical tones of selectors Danny Holloway and Peaking Lights' Aaron Coyes in quadraphonic sound. Staged in a giant vintage circus tent, the Death of a Clown Cabaret is LA's queer showcase of demented drag. Curated by LA queerdo scenemaker Rudy "Bleu" Garcia, the Death of a Clown tent features recurring drag shows, with DJs and live bands leading a zonked dance party throughout the day.
About the Park
One of the most historically significant sites in the city, Los Angeles State Historic Park is a 32-acre parcel of green space in downtown LA, with access to a wide range of public transportation. Originally home to Native American peoples such as the Kij, Gabrieleño, and Tongva, the park later became the "Ellis Island of Los Angeles" where new arrivals from the east first disembarked. It gained the nickname "The Cornfield" as LA's major transportation hub, so called because of the corn leaking from train cars and sprouting along the tracks. Following a multi-year, $20 million renovation, the State Historic Park reopened in 2017, now with sculpted paths, grassy hills, a stunning pedestrian walkway, and a massive performance space for concerts and festivals.
About The Growlers
Since the release of their first LP Are You In or Out? In 2009, The Growlers have forged their own twisted path on the global music scene. They're the party band that grew into a traveling circus of psychedelia that spawned their own event, Beach Goth. Lead singer Brooks Nielsen draws a particular devotion among Growlers fans, as does chief cohort Matt Taylor, The Growlers' music director and chief guitarist. Their most recent LP was 2016's City Club, produced by Julian Casablancas, which saw them expand their palette to include West African, dance, and electronic influences. The band is currently in the studio with Jonathan Rado (Foxygen) and Shawn Everett (The War On Drugs) and preparing for an upcoming world tour.