Welcome to the Future Music Festival Announces 2018 Lineup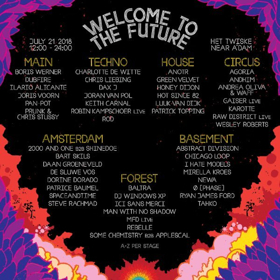 Only organic materials, mostly recycled, are used to form the Main Stage. Pan-Pot will be overlooking the slightly inclining dance floor once again, after mesmerizing visitors of the 2016 edition with an amazing set. Joining them will be fixed values like Joris Voorn and Dubfire.
The future will be tangible in a very straightforward way at the Techno stage. LED-lights and crispy clear sound systems play the lead role in this dark environment. The music itself is the key to what may be the most immersive musical experience at Welcome to the Future. With a capacity of over 8.000 people and a lineup that includes Chris Liebing, Charlotte de Witte, ROD and Dax J, this gigantic temple will unite all true Techno heads. House was born in a sweaty, stripped down warehouse in Chicago. Exactly this liberating, sensual atmosphere is recreated at the House stage. Artists like Green Velvet and Honey Dijon will take over the House stage.
The Circus has come to town and set up camp in the shape of a little village. Lovers of the minimal-revival unite to enjoy melodic and high energy sets by no other than andhim, Agoria, Gaiser (live) and Welcome to the Future family member Karotte.
Welcome to the Future is a home-grown festival. The very first edition was a club night in Paradiso in 1993. To celebrate this heritage, Welcome to the Future has invited their family members Steve Rachmad, De Sluwe Vos, and Spaceandtime to play at the Amsterdam stage.
It may be difficult to spot, but be sure not to miss this hidden gem. Vintage lovers that find their way through the maze will see flowers grow in this Hans and Grettle house paired with the mysterious Lo-Fi House vibes of cutting edge artists like DJ Windows XP and Baltra.