Wallis Bird Releases New Song BRUTAL HONESTY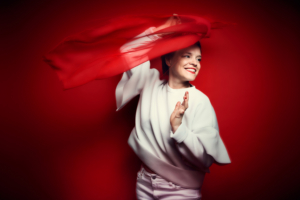 Today, Wallis Bird released "Brutal Honesty," a new song from her forthcoming record Woman (AntiFragile).
"'Brutal Honesty' is a song about the urge to put one's emotional house in order, comparing loves through my life and critiquing myself from their perspective," Wallis says. The track premiered exclusively via East of 8th earlier this week.
Listen on your favorite streaming service here!
Wallis is not one to shy away from expressing her feelings, and she believes that actions speak louder than words. A lot has inspired her since her last album; "The world has changed a lot, and I've changed with it. The #MeToo movement, Repeal the 8th, marriage equality in Australia, Black Lives Matter, Trump, Brexit, the rise of racism, the death of countless musical icons, the environmental crisis."
Woman - written and almost exclusively performed by Bird, with regular associate Marcus Wüst as co-producer - represents Bird's transparent attempt to speak out against injustice and counteract apathy through bold, blunt confessionals. "Like most artists, I've probably shirked my responsibilities at times so as not to rock any boats," she reveals. "But I decided it was time to change that." Her goal now is to animate and agitate, and Woman - eleven songs long but 37 minutes short, pointed, powerful, and packed with truths and levity - does just that. More significantly, it insists our lives are intertwined with inescapable consequences.
US TOUR DATES
August 15th - Washington DC - The Birchmere
August 16th - Philadelphia, PA - Philadelphia Folk Festival
August 19th - New York, NY - Rockwood
August 20th - Cambridge, MA - Club Passim
August 22nd - Saratoga Springs, NY - Caffe Lena
August 23rd - Concord NH - Bank of New Hampshire Stage
August 24th - Northeast Kingdom, VT - Stansted House Concert Network
August 26th - Buffalo, NY - Ninth Ward
August 27th - Ann Arbor, MI - The Ark
August 29th - Nashville, TN - City Winery
August 31st - Kansas City, MO - Kansas City Irish Fest

Related Articles View More Music

Stories
More Hot Stories For You