Urban-Jazz Guitarist Dee Brown Commits To His Muse On I WANT YOU TOO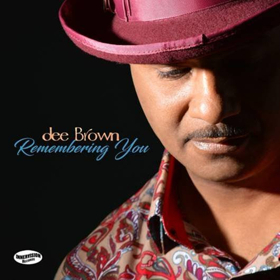 Capturing the intoxicating love and joy he experienced after getting engaged, dee Brown exuberantly picks and scats the next chapter in his intimate musical scrapbook assembled for his late fiancée. Going for radio adds next Monday (October 1), Brown and keyboardist Valdez Brantley wrote and produced "I Want You Too," the third single from the urban-jazz guitarist's "Remembering You" album.
Like the rest of the Innervision Records collection, "I Want You Too" is an upbeat and vibrant celebration of contemporary jazz, R&B and pop chronicling the romance and relationship Brown had with gospel singer Shaunia Edwards. In early 2016, shortly after the couple set their wedding date for that August, she became gravely ill and passed away before they could take their vows. Propped up by his unwavering faith, Brown moved past mourning and loss, instead focusing on preserving her memory by sharing the enchanting story of their love through a suite of ten songs. Evidence of Brown's guitar heroes, George Benson and Wes Montgomery, illuminate "I Want You Too" in the form of enticing electric guitar come-ons shadowed by a soulful scat. The heartening affair is sweetened by Valdez's synth string embellishments and Dezie McCullers Jr.'s alto saxophone shading.
"'I Want You Too' means I want you to be a part of everything in my life. I want you to be my friend, my wife, and ultimately my life. It encompasses all things that God has planned in his Divine Order. According to the bible, God's purpose was not for man to be alone, but to share life with someone. At that time, Shaunia was that someone for me and I was that someone for her," said Brown, who finally had his August wedding after meeting another "child of God" and marrying last month.
"Remembering You" dropped in June preceded by the spring single "Hey Baby" while the second single, "Pop the Question," hit with the arrival of summer. The effervescent "I Want You Too" bodes to charm radio playlists through autumn. Brown's expressive and lyrical fretwork serves as an evocative narrator throughout the remembrance; sharing the cheer in Edwards' own voice that she infused into the lives of those who knew her; reflecting the glee of their "season" together; honoring the pledges they made; ensnaring the energy and glee of their commitment and gratitude for having found each other; appreciating the beauty they shared; and ending with a resonant parting - a promise that their love will endure.
Receiving an enthusiastic response from reviewers, "Remembering You" includes performances from flutist Althea Rene, bassist Kern Brantley and drummer Ron Otis. Keyboardists Bob Baldwin and Nate Harasim contributed to the production and writing in addition to laying down piano and keyboard tracks.
For more information, please visit http://deebrownmusic.com.