The Head And The Heart Special Concert Livestream to Take Place 3/21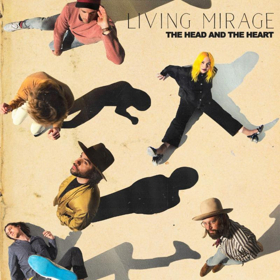 In celebration of their recently announced album, Living Mirage, The Head And The Heart will perform a special intimate sold out concert for fans at The Belasco in Los Angeles this Thursday, March 21st. For fans unable to attend, the band will be livestreaming the whole show beginning at 8:30pm PT on The Head And The Heart's Facebook, Twitter and YouTube as well as Live Nation's Facebook page.
Fans can tune in to watch the intimate performance, hear songs from the new album for the first time, and be the first to hear another major announcement from the band about their plans for this summer and fall across North America.
The Head And The Heart's forthcoming LP, Living Mirage, is due out on May 17th on Warner Bros. Records/Reprise Records. "Missed Connection," the first single from the new album, is now available to download, stream or watch the lyric video. Pre-order Living Mirage here.
Early last year, The Head And The Heart came together in the Mojave Desert's Joshua Tree where they decided to shed old skin before writing their fourth album, Living Mirage, a sweeping, artful expansion of the earthy folk rock that once defined them. This recent "rebirth, a spirit quest of sorts," as bassist Chris Zasche describes it, came from growing pains after their last album, Signs of Light: the amicable departure of guitarist-vocalist Josiah Johnson, replaced by Matt Gervais (husband to singer-violinist Charity Rose Thielen), and the return of keyboardist Kenny Hensley.
With a new beginning underway, the writing and recording process continued out of the desert, moving to Appleton, Wisconsin's The Refuge Fox Cities, West Seattle, Omnisound in Nashville, and Barefoot Recordings in Los Angeles with the help of Tyler Johnson and Alex Salibian (Harry Styles, Sam Smith, Cam) and engineer Ryan Nasci. The result is a series of what singer Jon Russell sees as a sort of chronicle of stories and perspectives.
"In my mind, the songs on this album are vignettes," Jon says. "Like 'Brenda' reminds me of when you're a teenager at a house party. You're surrounded by noise-'What am I doing here?'-and a ray of light comes down and you notice this person. You're like, 'Maybe I will stay.' These songs feel honest."
The palpitating-choral "Missed Connection," is a poignant snapshot of the anxiety that preceded that growth spurt. "A lot of the beats on that song are quicker, and there are high hats that were never in our music before," drummer Tyler Williams says, attributing the new sounds to their love of pop and hip-hop production. The track began as a remembrance of how Jon met his girlfriend, until morphing into a potent metaphor for the band-which met serendipitously around an open-mic night in Seattle 10 years ago-suddenly wondering, as he recalls, "Is it all going to work?"
Living Mirage lives up to its title, a shapeshifting fever dream of unease, angst, and ultimately hope. "This is literally the most work we've ever done on an album," the band's Jon Russell remarks, proudly.
Living Mirage Tracklisting:
01. See You Through My Eyes
02. Missed Connection
03. People Need a Melody
04. Honeybee
05. Brenda
06. Running Through Hell
07. Up Against The Wall
08. Saving Grace
09. I Found Out
10. Living Mirage
11. Glory of Music
"Missed Connection" Lyric Video
About The Head And The Heart
The Head And The Heart return this spring with their 4th full-length album,Living Mirage, featuring newly released "Missed Connection". Initially self-released in 2011, The Head And The Heart's self-titled breakout debut produced instant classics including "Rivers and Roads", "Down In The Valley" and "Lost In My Mind" and is now Certified Gold. Their last two albums, 2013's Let's Be Still and 2016's Signs of Light, settled into Billboard's Top 10 albums chart, with Signs of Light securing the #1 position on Rock Album Charts. It also produced the single "All We Ever Knew" which reached #1 at Alternative, after holding the #1 spot at AAA for 9 straight weeks earlier that same year. They have appeared in Cameron Crowe's Roadies, with music featured in countless other commercials, films and show, among themCorona and Silver Linings Playbook. Having played consecutive sold-out Red Rocks shows and prime time mainstage slots at Coachella, Lollapalooza and Austin City Limits on the last campaign, the band have a headlining tour planned for 2019, including another two sold-out Red Rocks shows in July. In total, the band has performed 13 times on national television including appearances on Ellen, The Tonight Show With Jimmy Fallon, Austin City Limits and more.