The Complete Don Giovanni is Headed Back to the SXSW 2018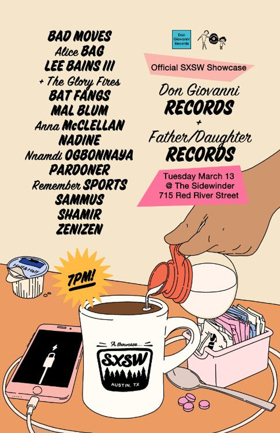 Don Giovanni is headed back to SXSW in 2018! This year, we'll be joining forces with our pals at Father/Daughter Records to host a joint showcasefeaturing artists from both labels. The event will be held on Tuesday, March 13th at the Sidewinder and will begin at 7pm.
Below, find the complete schedule for the DG/FD shindig along with a list of our artists' additional performances in/around Austin.
DON GIOVANNI & FATHER/DAUGHTER RECORDS @ SXSW 2018
Tuesday, March 13th
The Sidewinder
715
Red River
St, Austin, TX
7:00 pm INSIDE
8:00-8:25 VZn
8:45-9:25 Pardoner
9:45-10:25 Alice Bag
10:45-11:25 Anna McClellan
11:45-12:25 Mal Blum
12:45-1:25 Nnamdi Ogbonnaya OUTSIDE
7:30-8:00 Bad Moves
8:20-8:50 Zenizen
9:10-9:50 Remember Sports
10:10-10:50 Bat Fangs
11:10-11:50 Lee Bains III & the Glory Fires
12:10-12:50 Shamir
1:10-2:00 Sammus
DON GIOVANNI @ SXSW BAD MOVES 3.13 - DG/FD
Showcase
@
Sidewinder
7:30 pm
3.16 - Peelander Z Fest @
Spider House
4:45 pm
3.16 - Pit Party @
Barracuda
7:45 pm
3.18 - KVRX Pool Party 12:45 pm ALICE BAG 3.13 - DG/FG
Showcase
@
Sidewinder
9:45 pm LEE BAINS III & THE GLORY FIRES 3.13 @
Spider House
5:00 pm
3.13 - DG/FG
Showcase
@
Sidewinder
11:10 pm
3.14 - Handlebar 5:00 pm
3.15 - Sidebar 4:05 pm
3.15 -
The Parlor
TBD
3.16 - Little Woodrow's 4:00 pm
3.16 - Sidebar 6:30 pm
3.17 -
Valhalla
12:50 pm
3.17 - Sidebar 6:00 pm BAT FANGS 3.13 - DG/FG
Showcase
@
Sidewinder
10:10 pm
3.14 - Ground
Control
Showcase
@
Barracuda
9:40 pm
3.15 - Brooklyn Vegan Party @ Cheer Up Charlie's 12:15 pm
3.15 - Volcom X Red Party @ Volcom Garden 4:10 pm
3.15 - DC E Sports @ Antone's TBD MAL BLUM 3.13 - DG/FG
Showcase
@
Sidewinder
11:45 pm
3.16 - Ad Hoc
Showcase
@ Cheer Up Charlie's 8:45 pm SAMMUS 3.13 - She Shreds
Showcase
@ Kind of Tropical @ 7:20 pm
3.13 - DG/FG
Showcase
@
Sidewinder
1:10 am
3.14 - Uglyfest @
Cherrywood Coffeehouse
2:25 pm
3.15 - Scratched Vinyl
Showcase
@
Dive Bar
2:30 pm
3.15 - SXSW Gaming Party @ Hilton Austin
Grand Ballroom
10 pm
3.16 - Ad Hoc
Showcase
@ Cheer Up Charlie's 11:30 pm ZENIZEN 3.13 - DG/FG
Showcase
@
Sidewinder
8:20 pm
3.16 - Zilker Brewing Co. 1:30 pm
3.16 - Hole In
The Wall
5:30 pm
Related Articles
View More Music

Stories