The Afro Latin Jazz Alliance Presents ALJO + AFROBEAT = FELA!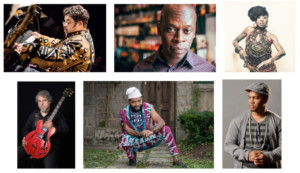 Multi-GRAMMY Award-winning composer/pianist/educator Arturo O'Farrill and the non-profit The Afro Latin Jazz Alliance (ALJA) are thrilled to announce NYC's premier Afrobeat concert of 2019, ALJO + AFROBEAT = FELA!, featuring O'Farrill and his 18-piece Afro Latin Jazz Orchestra (ALJO) alongside Tony Award-Nominated Sahr Ngaujah (lead actor in the Tony-winning Broadway musical, Fela!). Today's singular forbearers of the Afrobeat genre take to the stage with O'Farrill to debut big band jazz arrangements of Fela Anikulapo Kuti's classic works as well as innovative collaborations with special guest artists Wunmi (vocals), Tosin Aribisala (drums/vocals), Bryan Vargas (guitar), and DJ Ausar. Celebrating the 10th Anniversary of Fela!'s Broadway premiere in 2009, ALJO + AFROBEAT = FELA! will be presented in the Peter Jay Sharp Theatre @ Symphony Space on January 25 & 26, 2019. Artist interviews are available upon request.
"We honor the deepest roots of the tree when we acknowledge mother Africa," says Arturo O'Farrill. "Afrobeat is many things to many people but for me personally, Fela is the father and greatest practitioner of Afrobeat. The Afro Latin Jazz Orchestra's exploration of this music is essential to understanding who we are and why we do what we do."
At the intersection of West African musical styles and American funk and jazz, Afrobeat's roots date back nearly a century though its political messages remain as relevant as ever today. Fighting against political injustices and helping pave the way for social change, Kuti and O'Farrill are akin to having empowering narratives lead their ingenious compositions. O'Farrill is on the frontlines resisting oppressive forces with a critically-acclaimed catalogue of socially-charged albums: The Offense of the Drum (2014), Cuba: The Conversation Continues (2015), and most recently, Fandango at the Wall: A Soundtrack for the United States, Mexico, and Beyond (2018).
ALJO + AFROBEAT = FELA! features Arturo O'Farrill with pivotal artists who have continued the Fela Kuti legacy and others who brought to life the Broadway musical Fela!. Collectively, the All Star ensemble will beautifully exhibit the underlying ties between Afrobeat and big band jazz.
ALJO + AFROBEAT = FELA! -- Special Guest Artists:
Sahr Ngaujah
Hailed on the "Best Of" lists by The New York Times, TIME Magazine, Time Out NY and New York Magazine, Fela! told the triumphant story of Fela Kuti with the inimitable Sahr Ngaujah portraying the Afrobeat legend (Ngaujah received a Tony nomination for "Best Actor in a Leading Role"). Ngaujah's breathtaking performances brought to life the true story of Fela Kuti's courage, passion and love for music and humankind. Following Fela!'s successful Broadway run, Ngaujah has since appeared in television shows such as Luke Cage, Law & Order: Special Victims Unit, and The Good Wife. In film, he's been in the Sundance hit Patti Cake$, as well as Jodie Foster's Money Monster and Freeheld (opposite Julianne Moore and Ellen Page). Ngaujah also originated the role of "Toulouse-Lautrec" in the world premiere out of town production of Moulin Rouge under the direction of Alex Timbers, which debuted on Broadway in summer 2018. He will next be seen starring in Athol Fugard's Boesman & Lena at the Signature Theater off-Broadway.
Ngaujah joins O'Farrill and the special guests to perform select classics and obscure songs from Fela Kuti's famed catalogue. ALJO + AFROBEAT = FELA! will put the spotlight on compositions such as "Zombie," "Expensive s," "Water Get No Enemy," "Colonial Mentality," "Shakara," and others.
Wunmi
Born in London and raised in Lagos, Nigeria, Wunmi's work draws from the sounds, styles and ethics of Afrobeat. Through her reworks of Fela Kuti's "Expensive s" and "Zombie," she contributed to the acclaimed Kuti tribute project, Red Hot + Riot. Along with running her clothing line Wow Wow, she's commissioned dance works for Nora Chipamuire and Ron Brown (for Urban Dance Women and Alvin Ailey Dance Company), written songs in collaboration with Roy Ayers, opened for King Sunny Ade's 70th birthday NYC show, and danced in Soul II Soul's music video for "Back To Life." Wunmi is also a featured artist on tracks by some of House music's reigning producers, including Masters at Work and Osunlade.
Gilles Peterson lauded Wunmi's debut album, A.L.A. (African Living Abroad), as "an essential release from a unique artist." Her 2014 album, See Me, was produced by Ghanaian producer Kwame Yeboah; who is known as a member of the Afropop band, Osibisa, and his recent work with Ghanaian highlife singer Pat Thomas who appeared with his Kwashiebu band.
Tosin Aribisala
Composer, vocalist and percussionist Tosin Aribisala's music speaks to his African origin and deep appreciation for jazz. Growing up in Nigeria, Tosin's compositional pedigree is comprised of African rhythms and lyrics of hope, love and human realities. He's been a member of Femi Kuti's band, and has performed/recorded/toured with the likes of Antibalas, Taj Mahal, Baaba Maal, Carolyn Malachi, Fatoumata Diawara, Spyro Gyra, and Yerba Buena. Tosin performed on several tracks on Red Hot + Riot, he's appeared on MTV's "Real World" performing his Drum Monologue, and Ropeadope released his latest album, Afrika Rising, in June 2018.
Bryan Vargas
In addition O'Farrill as the Musical Director of ALJO + AFROBEAT = FELA!, guitarist Bryan Vargas and DJ Ausar contribute to the conceptual vision of the production. The original guitarist for the revered Afrobeat band Antibalas, Vargas performed "tenor" guitar for Fela! and served as the Assistant Music Director for the musical's American touring production. Vargas leads the band Chop & Quench (The Fela! Band), which features the band and cast members from Fela!. Vargas is a former student of O'Farrill's, and Vargas' debut album, Afro Latino Soul, was produced by O'Farrill. Vargas currently can be seen performing with bolero revivalists Miramar, among others.
DJ Ausar
A tastemaker DJ at Atlanta's WRFG 89.3, DJ Ausar created "The Kalakuta Show" as a vehicle for social movement by blending Afrobeat, funk, jazz, rare grooves, and Broken beats from all over the world. As a member of the DJ/Producer crew Vinyl Junkies Click (VJC Recordings), DJ Ausar has spun with the likes of Hugh Masekela, Roy Ayers, Blitz The Ambassador, Wunmi, and Daz-I-Kue of Bugz in the Attic. DJ Ausar will spin an eclectic set as attendees enter Symphony Space as well as throughout the concerts' intermissions.
The Afro Latin Jazz Alliance's (ALJA) annual live performance season includes quarterly concerts with Arturo O'Farrill and the Afro Latin Jazz Orchestra appearing with a rotating cast of renowned guest artists. With more than 30 special programs presented at Symphony Space and select venues such as The Apollo Theater, ALJA has partnered with the biggest names in jazz and beyond for more than a decade. At its core, the ALJA performance series serves as a platform for O'Farrill to workshop and debut awe-inspiring arrangements, many of which later appear on award-winning recordings.
Don't miss one of winter's most anticipated shows in New York City featuring O'Farrill live in concert with many of today's Afrobeat stars!