Rachael Sage Celebrates International Women's Day with Song Releases Today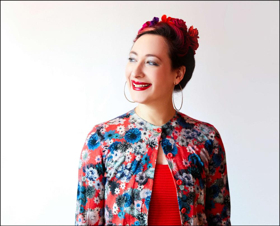 In celebration of International Women's Day, Singer-songwriter, multi-instrumentalist and producer Rachael Sage has released the acoustic version of her longtime fan favorite "Sistersong" along with a fan-sourced video for her song "Spark" via Popmatters. Both songs appear on her forthcoming album PseudoMyopia, out March 22 via MPress Records/ILS/Universal.

"Sistersong (Acoustic)" is a new, intimate arrangement of Rachael Sage's longtime beloved fan favorite, originally recorded in 1998 as a tribute to indie trailblazer and feminist icon Ani DiFranco. Featuring guest female artists Nalani & Sarina, Fiona Harte, and Gabrielle Louise, the song mirrors the #MeToo and Women's March movements, exploring the concept of sisterhood in all its manifestations. In this brand new acoustic rendition, Sage channels the nuances of ageism, sexism and the pressures on women to be everything but themselves, into a powerful anthem for the ages. Listen and share "Sistersong" here.

"Spark" is about passion in all its many forms - love, creativity & friendship. Rachael wanted to create something special with her fans, so she invited them to send footage sharing their passions and then made them all the stars of her latest music video. Watch and share "Spark" here.

""Spark" is a song about that magical moment when someone or something brand new and inspiring captures your attention and draws you in...when anticipation is still the dominant emotion and you can't help but be honest because the eagerness to connect is so strong," Sage tells Popmatters. "Basically in this song I'm trying to capture the essence of passion we all feel during those magical moments of humanity before walls have had a chance to build or expectations and doubts have taken hold - when everything feels absolutely authentic, exciting, vulnerable and inevitable.

A companion acoustic album to Rachael Sage's critically acclaimed recording Myopia, PseudoMyopia is a collection of 11 songs focusing on the concept of vision - including narrow mindedness - in all its many manifestations. Legally blind without corrective lenses, Sage balances the political and the personal with a striking depth and perspective. A multi-instrumentalist herself, Sage enlisted a diverse cast of guest musicians to bring a warm intimacy to these very timely tracks, touching on topics as varied as government surveillance, environmental protection, and female empowerment. Guests include guitarist Ben Butler (Sting), bassist Richard Hammond (Joan Osborne), cellist Ward Williams (Sara Bareilles) and Grammy® nominated musician Seth Glier.
Rachael Sage Tour

3/10 - New Haven, CT - East Rock Concert Series @ mActivity Cafe
3/16 - Austin, TX - Art. Work ADIM Event SXSW
3/30 - Binghamton, NY - Atomic Tom's
4/12 - Pawling, NY - Daryl's House
4/14 - Somerville, MA - The Burren Backroom
4/18 - New York, NY - Joe's Pub
4/26 - Duluth, GA EOP Presents @ Red Clay Music Foundry
4/27 - Asheville, NC - Isis Music Hall
5/1 - Pittsburgh, PA - Club Cafe
5/9 - Cardiff, UK - The Globe
5/10 - Bury, UK - The Met
5/11 - Glasgow, UK - Websters Theatre
5/13 - Aberdeen, UK - The Lemon Tree
5/14 - Edinburgh, UK - Cabaret Voltaire
5/15 - Sale, UK - Waterside Arts Centre
5/16 - London, UK - The Bedford
5/23 - New York, NY - Irish Arts Center
5/30 - Los Angeles, CA - Hotel Cafe Second Stage
5/31 - San Francisco, CA - The Lost Church
6/2 - Visalia, CA - Refugee House Concert
7/5 - Oxfordshire, UK - Cornbury Festival
7/13 - Caerwys, UK - Parafest
7/19 - Cheltenham, UK - Enchantica Festival

Rachael Sage Links:

Website
Facebook
Twitter
Instagram


Since founding her own label MPress Records two decades ago, NYC-based alt-pop artist Rachael Sage has steadily released a slew of vibrant, dynamic albums with poetic lyrics spanning subjects as wide as her inspirations. She has toured with an eclectic list of artists including Ani DiFranco, Beth Hart, Sarah McLachlan, Judy Collins and Howard Jones. Sage also continues to significantly grow her visibility via her many song placements, including 22nd songs on top reality show Dance Moms, translating into over 10 million YouTube hits. Her new album Myopia is a bold departure for Sage, with a much stronger emphasis on her guitar playing over her signature piano palette. Produced by Sage and her longtime engineer, 2-time Grammy® Nominee John Shyloski, the album features drummer Doug Yowell (Joe Jackson, Duncan Sheik), keyboardist Rob Curto (Lila Downes), trumpeter Russ Johnson (Elvis Costello, Deborah Harry) and bassist Mike Visceglia (Suzanne Vega). Sage will be releasing an acoustic version of Myopia, entitled PseudoMyopia, in March of 2019 and will support the album with a full schedule of performances throughout the year.