New Book on the Life of Winston Churchill Available Now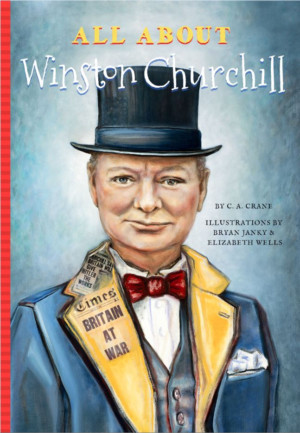 Winston Churchill is widely regarded as one of the greatest world leaders of the 20th century. The motion picture "The Darkest Hour," for which actor Gary Oldman received a Golden Globe Award, has recently renewed interest in the life of the late British Prime Minister.
Now, a new biography, "All About Winston Churchill" (Blue River Press) by C.A. Crane (a.k.a. Cynthia Crane) aims to teach young readers, ages 8-11, why they should care about a man who rose to political influence a century ago, and later fell out of favor among his own people, after leading them through their greatest challenge.
"The world would be a very different place today, if Germany had won World War II," Crane said. "It is not possible to fully comprehend how the Allies saved the world from Hitler, without understanding how Winston Churchill motivated the British people at a time when all hope seemed lost."
Crane said she was drawn to write about Churchill, following the death of her father, who grew up in pre-World War II Germany, before immigrating to the U.S.
"My father thought Churchill was a remarkable and complex man," she said. "When Blue River Press approached me about writing a biography for their young people's series, Churchill immediately came to mind."
(See Churchill's "Masters of Our Fate" speech here: https://youtu.be/SOQwa73KXbs)
No stranger to World War II history, Crane is also the author of the critically acclaimed "Divided Lives: The Untold Stories of Jewish-Christian Women in Nazi Germany" (St. Martin's Press). That book, published in 2000 and 2003, deals with so-called "Mischlinge," the children born into mixed Jewish-Christian marriages prior to, and during the war.
"The Churchill book is a departure from my usual literary style, because of the target audience," Crane said. "The challenge was to make such an iconic figure relatable to young people in an entertaining way, while simplifying some fairly complex political issues. The book is part of a series of biographies, so the writing style had to conform to specific guidelines established by the publisher."
Crane said that of the countless books written about Churchill through the years, she did not find many written specifically for young people.
"Even a lot of adults are unaware of who Churchill was and how much he accomplished, before he became a statesman," Crane said. "I wanted to show the challenges he faced. He did not have a happy childhood. He had a speech impediment, he did not perform very well in school when he was a boy, and his parents often were not around. Despite many obstacles in his life, Churchill became a great writer and political leader. I hope that by reading my book, young people will be inspired to learn more about him."
"All About Winston Churchill" by C.A. Crane is available in paperback and Kindle through Amazon (ISBN-10:168157098X and ISBN-13:978-1681570983). More information is available at http://brpressbooks.com/.