Leona Naess To Perform at Symphony Space NYC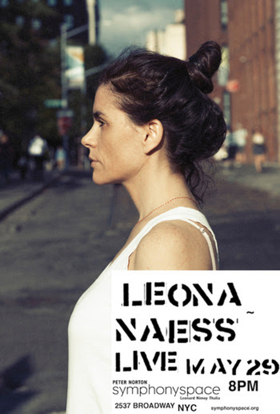 Leona Naess returns to the stage to play an intimate Symphony Space show in the Leonard Nimoy Thalia Theater on Wednesday May 29th at 8pm. Tickets are $20. and can be purchased via Symphony Space.
Leona Naess will be joined by artist and musician Jason P. Grisell from the band Bubbles on guitar, bass and keyboards as well as a three-piece string section. She'll be back and forth between the piano and guitar playing songs from her four critically acclaimed albums as well as new material, expected for release in 2020. "I have most of the songs written for my next record and now am just figuring out how I want them to sound. Do I want them to be naked or dressed in a tuxedo. These are important questions and I guess I have been waiting for that perfect dress/tuxedo to show up or for the songs to be good enough to be naked."
Naess talks about the intimate setting at Symphony Space for a gig: "It is going to be like coming into my living room and just listening to what I have been up to for the last 10 years and then also hearing my old songs. I picked this space so that I could have the calm and the command of the room and not be in some sty club downtown that gives you five minutes to sound check and then has you on the clock like a factory. I like myself to much to put myself through that s!"
For those wondering where Leona Naess has been since the release of 2008's Thirteens, her fourth studio album, she was waiting for the right time: "I have not released a record in 10 years 'cause I didn't know how to say what I wanted to say. I was busy being a mother and just unable to be creative (selfish!) and, caring at the same time. Who knew that being an artist was so self involved?" Naess laughs. "...Anyway, this show I booked is just to force me to play these new songs live and see if they are actually any good and what they might need to be better. It's also a chance to sing and work that muscle... performing live. She adds: "Everyone says it gets easier when you get older 'cause you don't care what people think. Not sure this is true at all!"
Leona Naess was born and raised in London and grew up in a family of artists and singers including her stepmother, the legendary Diana Ross. After getting her first guitar at age fourteen, she quickly began to write her own compositions. She moved to New York City when she was eighteen to study music at New York University. Naess hit the local scene, mostly doing open mics and within a few years started receiving attention from record labels, singing her first deal at age twenty two. After a series of seemingly standard music industry delays like her record label folding before the album was even released, she found a home with MCA Records and released her debut Comatised in 2000 that included the Adult Top 40 hit 'Charm Attack.'
In addition to releasing four full length LP's, Leona Naess has toured extensively and worked with an eclectic roster of artists. She recorded backing vocals for Counting Crows, Rufus Wainwright and Ray LaMontagnewhom she has also toured, made a record with Ethan Johns, and had a single produced by Tori Amos (the single, 'Ballerina.') Other artists she has played wit include: Travis, Ryan Adams, Hem, Josh Rouse, Ben Lee, Badly Drawn Boy, and appeared as part of the 1999 Lilith Fair. Naess has also had tracks featured in the Showtime program, Weeds and the soundtrack for Bridget Jones: The Edge of Reason.

Most recently, Naess returned to the stage in 2016 performing at New York's Rockwood Music Hall which was her first show in over seven years. She is looking forward to hitting the stage more than twice in seven years! "I am excited to hear these songs that have been my little secrets and see if they sink or swim. Whatever. It's just fun to sing again. Sometimes you forget what you are meant to be doing. I forgot for a while."
Related Articles
View More Music

Stories