Lafawndah Shares STORM CHASER Ahead Of Debut Album Release This Friday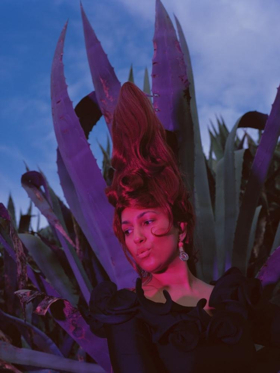 Each single from Lafawndah's debut full length, ANCESTOR BOY, has debuted a new archetype from her idiosyncratic and hallucinatory world. Now, the natal anarchist of Joseph and the prodigal daughter of Daddy give way to perhaps the most imposing character yet: Storm Chaser.

Who is she?

Storm Chaser is the embodiment of chaotic good. Fluid, free, and drawn out by unpredictable times, she is a distant relative to the mischievous and benevolent fox of Le Renard Bleu (Lafawndah's premier collaboration with Midori Takada.) A devotional praise song for a tempestuous, anti-authoritarian spirit, Storm Chaser celebrates surrender to turbulence as an act of emancipation. This seals a long-running motif in Lafawndah's music: an intuitive symmetry between the emotional interior and the elemental exterior. As Lafawndah sings: if only you can open up/just let her show you -- how to face uncertainty; how to feed on the breaking points; how to forge complicity with forces bigger than yourself.

The songs' sonics simultaneously conjure the Jam + Lewis engineered militant- industrial of Janet Jackson's Control, the skygrazing mythos- pop of Kate Bush, and the impassioned, baroque bombast of Queen. Lafawndah's voice and fathoms- deep bass form the supple spine of the track, while the distant threat of wooden war drums are strafed by arctic-chrome tom fills, cutting the menace with the sleek thrills of the chase. The vivid detail of Storm Chaser's arrangements conjure epic, rain-slicked mountain landscapes, thick with atmospheric pressure and set alight by our hero: Storm Chaser is an anthem for those who were born to dive headfirst into the trouble.

This Friday 22nd March sees the release of ANCESTOR BOY via Lafawndah's own label imprint CONCORDIA. Crafted with the aid of fellow travellers Nick Weiss, Aaron David Ross, and L-Vis 1990, and with guest appearances from the likes of Jon Hassell, Kelsey Lu, GAIKA; Julie Byrne and Bonnie Banane, ANCESTOR BOY's maximalism- it's overflow of detail, of feeling, of ideas- serves to amplify a frequent lyrical motif: the sensation that one body, one lifetime, isn't big enough for what you're feeling. The record itself is a bracing statement of intent, heralding an artist unbound in scope, scale, and intensity.

The Wire has described Lafawndah as "a prolific, stylish artist in bloom", while Loud & Quiet call ANCESTOR BOY "a debut of rare adventurousness... thrillingly eclectic and unremittingly ambitious".

Lafawndah's 2018 was filled with myriad musical highlights and successes - including a celebrated performance featuring peers Tirzah, Kelsey Lu and more at London's South Bank in December, growing from her acclaimed HONEY COLONY mixtapes. Meanwhile her heart-stopping inter-generational music & film collaboration with japanese ambient legend Midori Takada in Le Renard Bleu (with KENZO and Partel Oliva) continues to echo into new forms, with a full production performance titled 'Ceremonial Blue' premiering at the Barbican, London on 7th April, featuring custom costume design from Ib Kamara. And streaming now, her achingly beautiful self-directed video for JOSEPH - a lullaby and an ode to newborn life co-written with Jamie Woon and depicting the first chapter of her discoveries surrounding the Artemis Response Coalition - has set Lafawndah apart as an independent director with a singular vision spanning multiple media and artforms.
Lafawndah will be performing in 2019:
23.03.19 - Out The Frame Festival, BE - TICKETS
29.03.19 - ReWire Festival, NL - TICKETS
07.04.19 - CEREMONIAL BLUE w/ Midori Takada, Barbican, London UK - TICKETS
12.04.19 - Tremor Festival, PT - TICKETS
27.04.19 - DonauFestival, AT - TICKETS
12.05.19 - FORM Festival, AZ USA - TICKETS

ALBUM / SINGLE BUY LINK:
https://Lafawndah.lnk.to/AncestorBoy
Photo credit: Mathilde Agius
Related Articles
View More Music

Stories
More Hot Stories For You