Iconic Folk Legends of "Peter, Paul and Mary" Return to Thousand Oaks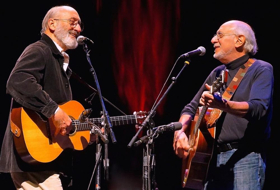 Peter Yarrow and Noel Paul Stookey bring their songs and stories to the Fred Kavli Theater on Friday, March 1, 2019 at 8:00 pm.
The folk trio Peter, Paul and Mary made music together for nearly 50 years, arriving on the scene with a 1962 self-titled album and its hit "If I Had a Hammer". Mary Travers died in 2009, but Yarrow and Stookey continue to tour as a duo, continuing the band's tradition of uplifting audiences with messages of peace and social justice.
Peter, Paul and Mary began in Greenwich Village in the early 1960's and at the time, for the majority of America, folk was viewed merely as a sidebar to pop music. The nation was still recovering from the McCarthy era and the Cold War was heating up. Yarrow, Stookey and Travers came together to reclaim folk's potency as a social, cultural and political force. The Trio lived their songs. They sang at the 1963 March on Washington where Dr. Martin Luther King gave his "I Have a Dream" speech, they participated in the Selma to Montgomery March, they sang at countless anti-Vietnam War rallies and they launched decades of musical activism.
No American folk group lasted longer or amassed a more loyal following than Peter, Paul and Mary. During their legendary career, the trio won five Grammy® Awards, produced 13 top 40 hits of which six ascended into the top 10, and earned eight gold and five platinum albums.
When Yarrow and Stookey perform together, audiences comment that in many ways it feels as if Travers were still on the stage with them. The energy and enthusiasm for the music has not diminished, in fact it seems even more impassioned, and frequently the audience steps in to sing Travers' part-their voices strong, their hearts full.
In this performance Yarrow and Stookey will sing many of the group's classic hits, including "If I Had a Hammer," "Blowin' in the Wind," "Puff (The Magic Dragon)," "I Dig Rock & Roll Music," and "Leaving on a Jet Plane."
Single tickets are priced at $41 - $66 with group discounts available. Tickets are available from Ticketmaster at 800-745-3000, online at www.ticketmaster.com, or through the Thousand Oaks Civic Arts Plaza Box Office, located at 2100 Thousand Oaks Boulevard. For more information call 805-449-ARTS (2787) or visit www.civicartsplaza.com.