Head For The Hills Announce New EP and Tour Dates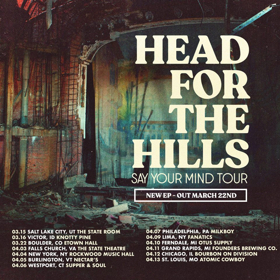 Head For The Hills are thrilled to announce their new EP Say Your Mind, out everywhere March 22.
Say Your Mind was recorded at Swingfingers Studios in Fort Collins, CO. The band brought in several guest musicians for this recording, including Darren Garvey on drums (Elephant Revival), Todd Livingston on dobro and lap steel, Kim Dawson on vocals (Matador Soul Sounds, Pimps of Joytime), Mike Tallman on Electric Guitar (Euforquestra, Color Red), James Thomas on keys, and a full horn section.
"Developing songs for the new EP and playing with this extended lineup has been very liberating. Suddenly it feels like there are zero limitations."
- Adam Kinghorn (Guitar/Vocals, Head For The Hills)
The new material reflects both the turbulent social rhythms of our current era and more timeless moments of joy, growth, and change-think #MeToo, the current body politic, and inequality, but also relationships, fatherhood and growing up.
Head for the Hills are also pleased to announce the addition of several tour dates that will bring the band across the country and a special home state show in Colorado at eTown Hall in Boulder to celebrate the release of Say Your Mind.
Say Your Mind Tour Dates
02.13 • Bend, OR • Volcanic Theatre Pub
02.14 • Seattle, WA • Tractor Tavern
02.15 • Hood River, OR • River City Saloon
02.16 • Portland, OR • Mississippi Studios
03.15 • Salt Lake City, UT • The State Room
03.16 • Victor, ID • Knotty Pine
03.22 • Boulder, CO • eTown Hall
04.03 • Falls Church, VA - The State Theatre
04.04 • New York, NY- Rockwood Music Hall
04.05 • Burlington, VT - Nectar's
04.06 • Westport, CT - Supper & Soul
04.07 • Philadelphia, PA - Milk Boy
04.09 • Lima, NY - Fanatics
04.10 • Ferndale, MI - Otus Supply
04.11 • Grand Rapids, MI - Founders Brewing Co.
04.12 • Chicago, IL - Bourbon on Division
04.13 • St. Louis, MO - The Bootleg at Atomic Cowboy
Like a painter that starts in acrylic and graduates to oils, Head for the Hills is deeper and richer in their 15th year as a band, with a wider palette of sonic textures at their disposal. Dorm room jam sessions have turned into a decade plus on the road--from humble coffee shops to theaters, festivals, roadhouses and clubs all across the country. Over time those sounds and influences have crept more and more into the bluegrass beginnings of the band, morphing into the seasoned eclecticism of Say Your Mind. The new songs are quinnessential Head for the Hills; genre-stradling, lyrically deep, and danceable, with a crew of collaborators bringing the best of Colorado acoustic, roots, and soul music together.
Head for the Hills numerous festival appearances include notables Telluride Bluegrass Festival, High Sierra Music Festival, South by Southwest, FloydFest, RockyGrass, DelFest, Summer Camp Music Festival, Blue Ox Music Festival, Northwest String Summit, Strawberry Music Festival, Bristol Rhythm and Roots, Chicago Bluegrass & Blues Festival, Folk Alliance, Grandoozy and many more. The band charted on the CMJ Top 200 twice, has been featured on NPR Ideastream and eTown, and was awarded Best Bluegrass in Colorado four times via Denver's Westword Magazine.
Related Articles View More Music

Stories