Family of the Year Release Highly-Anticipated New Album GOODBYE SUNSHINE, HELLO NIGHTTIME Today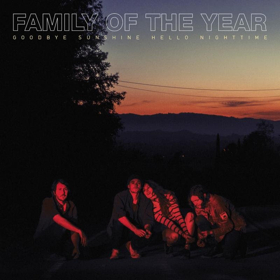 Critically acclaimed LA-based indie rock outfit Family of the Year has released their highly-anticipated new album, Goodbye Sunshine, Hello Nighttime, today on Reprise Records. Produced by Greg Wells (Adele, Dua Lipa, The Greatest Showman), the 12-song set is earmarked by heartfelt introspective storytelling and rich instrumentality, re-emerging with their most hypnotic and intimate body of work to date, including standout tracks, "Let Her Go,""Latchkey Kids," and radio single, "Hold Me Down."
Listen Goodbye Sunshine, Hello Nighttime HERE!
The album represents a turning point for the quartet as not just musicians, but friends as well. The last few years would prove to be simultaneously maddening, marvelous, and ultimately majestic for Family of the Year. Started by brothers Joe and Sebastian Keefe, the group made writing retreats to Mount Washington and Bear Valley Springs in order to craft the new music during 2016. However, pressure increased, communication eroded, a once defined creative identity became obscured, and Joe and Sebastian endured the passing of their mom.
Reinvigorated and re-inspired, they rebuilt their friendships and finished writing and recording with a new creative clarity, going deeper than before. As a result, the subject matter also encompasses the Keefe brothers' upbringing in a working class broken home in Martha's Vineyard, and "home" remains a resonant concept throughout. Drummer Sebastian Keefe explains, "We wanted to write something deeper... That had to happen for us to reach our potential for honesty, vulnerability, satisfaction, and creativity."
Family of the Year-Joe [vocals, guitar] & Sebastian Keefe [drums, vocals], James Buckey [guitar, vocals], and Christina Schroeter [keyboards, vocals]-quietly captivate with a combination of idyllic instrumentation and emotional storytelling. Their breakout hit, "Hero," has accumulated over 200 million streams since earning a prominent sync in the Academy® Award-nominated and Golden Globe® Award-winning drama, Boyhood. The group has earned praise from USA Today,Entertainment Weekly, Billboard, Interview Magazine, and Paste in addition to performing onJimmy Kimmel LIVE!, Conan, and more. Since forming in 2009, they have toured with Mumford & Sons, Phoenix, Imagine Dragons, Walk The Moon, Fun., Grouplove, among others.
Related Articles View More Music

Stories