Elise Davis Announces Tour Dates with Dwight Yoakam; Named Wide Open Country Artist To Watch May 2018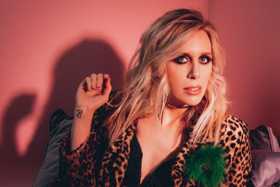 This September, Elise Davis returns with her sophomore album Cactus, the follow up to her 2016 critically-acclaimed debut The Token. This weekend, Davis kicks off a short tour with Dwight Yoakam that will make stops in Indiana, Missouri, and Oklahoma.
This week, Davis was named one of Wide Open Country's Artists To Watch: May 2018. Bobbie Jean Sawyer said, "The album's first single, 'Don't Bring Me Flowers,' is a smart, self-assured and dreamy look at desire and casual romance. It's the kind of sentiment country could use a lot more of and Davis is just the singer to share it."
NPR Music's Brittney McKenna said, "'Don't Bring Me Flowers' is downright buoyant, flirting with pop melodies and allowing more room for Davis to go big with her formidable voice."
"On my new record Cactus there is a heavy theme of feeling like a lone wolf, independent, and sexually liberated," explains Davis. "'Don't Bring Me Flowers' ties into that theme being a song simply about the desire to be involved with someone but keep it light, casual, and sexy."
For Cactus, Davis tapped producer Jordan Lehning (Caitlin Rose, Andrew Combs, Birdcloud's Jasmin Kaset) to helm her most personal work to date. The two worked together for six months straight, holed up in Lehning's home studio, looking to albums like Tom Petty's Wildflowers and Aimee Mann's Mental Illness for inspiration. Davis' melodies remain at the forefront of every mix, her voice honest and unflinching, stripped free of the reverb that had swirled its way throughout The Token.
"Cacti are independent plants that sustain themselves," explains Davis about the new album. "They can be beautiful with bright-colored flowers on them, but if you touch them, they will hurt you. I see a lot of parallels with the way I have felt most of my life. It felt like the perfect album title for these songs."
Tour Dates:
5/5: Wabash, IN - Honeywell Center #
5/7: Columbia, MO - Missouri Theatre #
5/11: Thackerville, OK - Winstar Casino #
6/1: Nashville, TN - Musician's Corner
Photo Credit: Alysse Gafkjen
Related Articles
View More Music

Stories