Dr. Demento Covered in Punk Out Today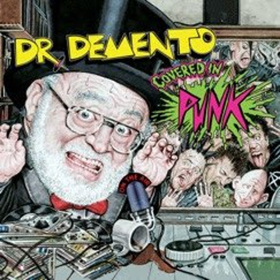 Demented Punk today released DR. DEMENTO COVERED IN PUNK, a special two-hour demented punk extravaganza featuring an eclectic mix of artists from the world of classic and contemporary punk/indie/alt-rock, along with special guest stars from film, TV and more. This audio oddity is a modern-day homage to radio icon Dr. Demento, a world-renowned institution who has championed novelty music and its creators since the 1970s, will be released on January 12, 2018 by both physical and digital retailers. Fans can order the physical album HERE or the digital version at iTunes now.
"I've been a fan of
Dr. Demento
nearly my entire life," said album producer and participant, John Cafiero. "The Doc's show has introduced audiences to counter culture and an eclectic talent pool of humor-infused music for nearly five decades; creating a musical movement that echoes the spirit of punk with its own unique voice. There are no airs, and everyone's welcome. If you didn't fit in- you fit in."
Dr. Demento Covered In Punk features over thirty different, never before released, all-new 'punk' cover versions of 'mad music and crazy comedy' songs famously heard on the airwaves of the legendary "Dr Demento Show"- intermixed with 'wild card' tracks showcasing some incredible, newly 'demented' versions of punk-rock classics! Joined by everyone from the Misfits, Joan Jett,
Fred Schneider
of the B52s, to
"Weird Al" Yankovic
, the late
Adam "Batman" West
(in one of his final performances), and Captain Kirk himself,
William Shatner
-(to name just a few). The Doctor is in...and he's 'Covered in Punk'!! A full track listing can be found below.
"I produced the album and curated the artist roster as if it was a musical art exhibition, or directing a feature film, and packaged it in the form of a traditional radio show hosted by Dr. D. himself. For some this might be an introduction to the lost art of the traditional radio format, and for others, a welcome return," adds Cafiero. "The artists here range from classic to contemporary, from icons and legends, to fresh voices from the underground-but I don't think any of them are doing what you might expect of them here! It's really a celebration of the bizarre, and I can't wait to unleash it on to the world."

"When John Cafiero first proposed this project several years ago I was a little puzzled at first, but when he began naming the artists and songs he'd lined up for the project I was totally sold," said Dr. Demento. "What started out as a single CD soon grew into a double (and a triple for vinyl), and I hope you enjoy it as much as I've enjoyed helping John put this together."
Dr. Demento Covered In Punk includes an in-depth booklet with equally entertaining liner notes and personal quotes from the participating artists, a foreword by album producer and Demented Punk founder John Cafiero (Misfits, Ramones, Osaka Popstar), an afterword by Dr. Demento, as well as factoids, photos and an array of dynamic paintings and illustrations created exclusively for the project by a team of visual artists spanning the world of comic books, classic punk rock album covers, Topps trading card series, Mad Magazine and more. The cover artwork for the album was created by iconic illustrator Drew Friedman whose work has appeared in countless publications from Entertainment Weekly and Time Magazine to Rolling Stone and the New
Republic
and just about everything in between.