David Ullmann Reinvents His Own Music With the Benefit of Vibrant Hindsight on SOMETIME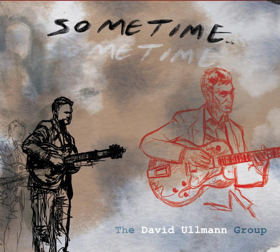 Every artist is familiar with the feeling of looking back at their work with the benefit of hindsight, wishing they could revisit the raw emotion of their earlier efforts with the knowledge and experience gained in the intervening years.
On his fourth release, Sometime (set for release on November 16th), acclaimed guitarist David Ullmann has the rare opportunity to do just that. Dusting off an older, unreleased recording, Ullmann has transformed the raw material of a long-shelved album into something much more expansive and fleshed out. The result thrives on the best of both worlds: the raw abandon of youthful vigor melded with the more complex vision of a mature, inventive artist.
"The idea of looking back on your life and being able to change what you did is an attractive one," Ullmann says. "I went back to this album and realized that the three of us had something special, but I also could see the potential in what it could be. So I wanted to return to that music and see how far I could pull that out."
At the time of its initial recording nearly 12 years ago, the music that has become Sometime would have been Ullmann's second release as a leader. His debut, Hidden, had been well received, with All About Jazz lauding Ullmann's compositions for providing listeners "a satisfying sense of taking a journey," while his playing already evidenced the compelling sweep that would lead DownBeat to praise his follow-up, Falling, saying "his restrained, tasteful solos display the narrative arc of a veteran storyteller."
Those qualities remain abundantly present in the raw material ofSometime. The album was originally intended to be an organ trio date: Ullmann was joined by organist Joe Ashlar (Dr. John, Bonerama) and drummer Vin Scialla (Brooklyn Raga Massive, JD Allen), his longtime collaborators in the band Mission: on Mars, which blended traditional Indian music with electronic grooves. As was to be expected given their longstanding chemistry, the tracks they laid down that day were everything you'd want from an organ trio: funky, soulful, and grooving with a tinge of offbeat eclecticism.
Still, it wasn't quite up to par for Ullmann's rapidly evolving vision. "I love the organ trio sound," he says. "I've always loved those records that Pat Martino did, and the classics like Jimmy Smith and Jack McDuff. I was really happy with what we created together, but I was already starting to hear a larger sound - and this record just didn't have that."
The increasing scope and ambition of Ullmann's compositional voice became apparent with the release of his next two albums. Falling (2011) brought the guitarist's evocative narrative sense to the fore through a set of pieces that gave listeners a dreamily disorienting feeling of weightlessness. The quintet session featuring saxophonist Karel Ruzicka Jr., vibraphonist Chris Dingman, bassist Gary Wang, and drummer Vinnie Sperrazza was widely acclaimed, with Critical Jazz marveling at the music's "intense waves of creativity."
His 2014 follow-up, Corduroy, added grace notes of humor and nostalgia to the mix, along with further expanding his ensemble to a vivid and wide-ranging octet. Ullmann drew inspiration for the album from the TV theme songs he'd grown up, with compositions calling to mind imaginary car chases, shoot-outs and femmes fatale. DownBeat applauded the album for accomplishing a rare distinction: "jazz as easily enjoyable as a great pop tune."
With those enriching experiences fresh in his mind, Ullmann returned to that organ trio recording with a new, bolder perspective and decided to build entirely new arrangements on top of them. He called on many of the musicians who'd worked with him over the past decade: Chris Dingman, trombonist Brian Drye, saxophonists Mike McGinnis, Oscar Noriega and Josh Plotner, trumpeter Jeff Hermanson, keyboardist Bryn Roberts, percussionist Rex Benincasa, sitar player Neel Murgai, mandolinist Snehasish Mozumder, and tres player Ben Lapidus. One look at that unique instrumentation is enough to suggest the vibrant palette that Ullmann worked from in reimagining this music.
"What was interesting for me with this was to take the idea of writing for a larger group like I did on Corduroy," Ullmann explains, "and instead of having it occur organically, to put it upon something and try to find those spots where things could work together. It was challenging at times, because I'd want to do things a certain way and just couldn't because what was already was there was so strong."
Ullmann solved those puzzles in a variety of ways. The laid-back groove of opener "Slipstream" and Wayne Shorter's classic "Adam's Apple" get beefed up with boisterous funk horns, while the tense "Tapping at the Knit" gets a layer of psychedelic exotica with the addition of Murgai's sitar. The added instrumentation brings out the South Asian modalities of "March" through an alluring haze, and wistful horns add poignant emotion to "Sometime." The ethereal "When" comes more sharply into focus with Murgai's sitar and Mozumder's mandolin scything through, while the extra layers lend new urgency to "Vortex" and mystery to "Reckon." Finally, "Grant's Groove" ends the album on a stunning soul-jazz note.
"I wanted to explode out all the little elements that I heard inside the music," Ullmann concludes. "I thought I'd take the germ of the idea that started with these three people and see how far I could pull it out. It's a combination of all the things that I've done put together on this one set of music that didn't get a chance to see the light of day."
Related Articles
View More Music

Stories
More Hot Stories For You