Courtney Marie Andrews To Premiere New Single At The Fader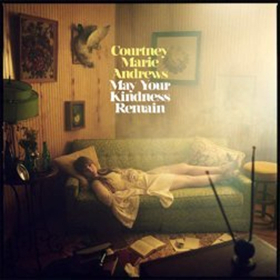 Courtney Marie Andrews' new song, "Kindness of Strangers," is premiering today at The Fader. "Kindness of Strangers" is the second song unveiled from Andrews' anticipated new full-length album, May Your Kindness Remain, which will be released March 23 on Fat Possum Records/Mama Bird Recording Co. and is now available for pre-order.
Already receiving widespread attention, the album's title track was recently featured as part of NPR Music's "Songs We Love" series. Of the song NPR Music praises, "Sonically, the track signals a new direction for Andrews, who, alongside producer Mark Howard, ventures beyond acoustic folk and into gospel, soul, and rock over the course of the song's four minutes." Additionally, Brooklyn Vegan calls it, "...a gorgeous dose of Courtney's Joni Mitchell-esque folk that brings in some unexpected distorted guitar, gospel-inspired harmonies, and more. It's more proof that Courtney is a force to be reckoned with," while Stereogum asserts, "Andrews gives us a glimpse as to how far her voice will go with the gospel-powered title track. Electric guitar and a soulful organ bass combine with Andrews' traditional folk songwriting to drive the chorus...We'd all do well to listen" and Rolling Stone declares, "...awash in church organ, lush harmonies, and a soaring, impassioned lead vocal from Andrews, whose twang quivers and shudders as she scales the song's climactic final refrain."
Andrews will tour throughout 2018 in support of the record, including a stop at SXSW as well as headline shows at Nashville's The High Watt, DC's Black Cat, New York's Mercury Lounge, Chicago's Schubas and L.A.'s The Moroccan Lounge. See below for full details.
Produced by Mark Howard (Lucinda Williams, Bob Dylan, Emmylou Harris, Tom Waits), the album was recorded over eight days at a rented house-turned-studio in L.A. In addition to Andrews on vocals and electric/acoustic guitar, the album features Dillon Warnek (electric guitar), Daniel Walter (organ, Wurlitzer, accordion), Charles Wicklander (piano, Wurlitzer), William Mapp (drums, percussion), Alex Sabel (bass) and C.C. White (background vocals).
Of the album and the inspiration behind its ten songs, Andrews comments, "The people that I've met on the road these past few years got me thinking about my childhood, and the people around me that I've known, and the stories that come from my family. It became clear how many people are struggling through the same issues. People are constantly chasing that bigger life. A lot of people are poor in America-and because of those unattainable goals, they're also mentally unstable, or sad, or depressed or unfulfilled. A lot of people-myself included at some point in my life-are loving somebody through this. That's sort of the theme of the record: coming to terms with depression and the reality of the world we're living in."
Related Articles View More Music

Stories