Concert For George: George Harrison Tribute Box Set Due Out 2/23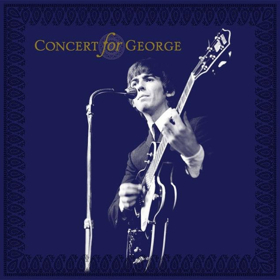 In honor of George Harrison's 75th birthday (February 25), the Grammy®-winning, 8-times platinum release CONCERT FOR GEORGE, will be available for the first time on vinyl, released as a 4-LP Box Set, as well as a Limited Edition Deluxe 10-disc Box Set via Concord Music. Says Olivia Harrison, "We will always celebrate George's birthday and this year we are releasing Concert for George in a very special package in memory of a special man."
The
Deluxe
Box Set
(limited to 1,000 pieces worldwide) features the complete sound and film recordings from the concert (on 4 180-gram audiophile LPs, 2 CDs, 2 DVDs and 2 Blu-rays), a 12"x12" hard-bound 60-page book, plus an opportunity to own a piece of the historic event, by way of a cutting from the original hand-painted on-stage tapestry used as the backdrop at the
Royal Albert Hall
on November 29, 2002. The package is housed in a gold-colored, fabric-wrapped box with a die-cut mandala window to display the unique stage fabric (which is mounted on an individually numbered card, suitable for framing). Includes a note from Olivia Harrison, explaining the story behind the tapestry. The 1,000 Limited Edition
Deluxe
Box Sets are only available on ConcertForGeorge.com. Click here to pre-order:
http://found.ee/CFG-deluxe-r
CONCERT FOR GEORGE has been certified 8-times platinum by the RIAA since its initial release as a 2-DVD set in November 2003 and earned a 2004 Grammy® Award for Best Long Form Music Video.