Composer Sid Richardson Releases 'Borne by a Wind'
The album is coming on Friday, February 12, 2021.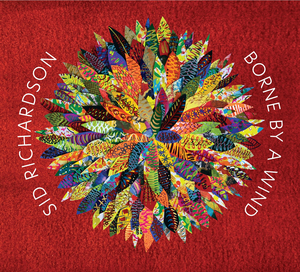 On Friday, February 12, 2021, Boston-born composer Sid Richardson releases Borne by a Wind on New Focus Recordings. In this debut portrait album, Richardson explores the point of intersection between music and literature in gritty and original ways, opening with Red Wind (2017), a collaboration with African-American experimentalist poet and National Book Award-winner Nathaniel Mackey that features Mackey as narrator in excerpts from his poetry collection Blue Fasa alongside the Deviant Septet. Earlier works on the album include There is no sleep so deep (2016), written for and performed by pianist Conrad Tao; LUNE (2015), written for and performed by violinist Lilit Hartunian; and Astrolabe (2014), recorded by the Da Capo Chamber Players.
Richardson first met Mackey in February 2015, after hearing the latter discuss Anthony Braxton's music during a roundtable at Duke University, from which Richardson holds his PhD. After striking up a conversation post-talk, Richardson began reading Mackey's oeuvre closely: his poetry, including the 2015 volume Blue Fasa; his jazz-inspired epistolary fiction, such as Bedouin Hornbook and Bass Cathedral; and his music-focused essays, notably "Cante Moro," "Sound and Sentiment, Sound and Symbol," and "Breath and Precarity."
Out of this immersion in Mackey's work came Richardson's Red Wind, a five-movement piece written specifically for Deviant Septet, Duke's ensemble-in-residence between 2015 and 2017. The title is an allusion to "Hofriyati Head Opening," a poem from Blue Fasa featured in the second movement. Ethnographer Janice Boddy describes the "red wind" as a breeze that the Hofriyati - villagers living on the Nile in the north of Sudan - believe afflicts possessed persons. Those afflicted must be purged of this "red wind" through rituals that may include dances, animal sacrifices, feasts, and trance-inducing chants. Mackey, in his preface to Blue Fasa, interprets these Hofriyati possession rituals as signs of yearning for "redress for disconsolate identity, a too tightly bound or tied up identity." Following Guyanese novelist Wilson Harris, Mackey sees a role for art in loosening these cords of identity and ushering forth a cross-cultural ethos that eschews essentialist thought.
Richardson's music in Red Wind is faithful to this ethos, and provides a metaphor for the kind of culturally syncretic world long dreamed of by Glissant, Harris, Mackey, and others. In the first, fourth, and fifth movements, one hears a combination-tone harmonic system derivative of Claude Vivier's les Couleurs being employed to depict the Hofriyati spirit world. Mackey can be heard on Red Wind, reciting excerpts from Blue Fasa in his baritone voice.
Earlier works on Borne by a Wind include a eulogy for Richardson's grandmother, There is no sleep so deep, an emotionally-charged piano piece inspired by Samuel Beckett's play Footfalls. It was written for pianist Conrad Tao's residency at Duke in March 2016, and performed by Tao on this album. Richardson compares the obsessive pacing of Beckett's protagonist, depicted musically via sixteenth notes, to the restless wanderings of the "philosophic posse" encountered in Mackey's long poems.
LUNE, for violin and fixed media, was composed in June 2014 while Richardson was ensconced by Lake Dunmore, Vermont for the New Music on the Point Festival. Captivated by loons from a nearby island reserve, Richardson recorded their nocturnal sounds while a full moon (lune) hovered above. These loon "wails" provide the harmonic fabric of Richardson's piece: the violin and electronics slowly converge into a mass sound that depicts a flock of loons overhead. Richardson wrote LUNE for violinist Lilit Hartunian who performs it on this album; it is dedicated to her and to the memory of their childhood friend Simon Chernack, who passed away during the composition of the piece.
Richardson's fascination with the liminal space between music and language continues with Astrolabe, a 2014 chamber work for flute, clarinet, violin, cello, piano, and percussion inspired by the ancient instrument of the same name. The astrolabe is a symbol of the universe associated with mysticism and divination, and in that sense it is comparable to the mandala that adorns this album. Written at a time when Richardson was exploring microtonal and spectral techniques in works by Claude Vivier, Kaija Saariaho, and Chinary Ung, its climax features whispered excerpts from Chaucer's Treatise on the Astrolabe and Walt Whitman's "Kosmos." Richardson paid particular attention to the percussion and flute when crafting Astrolabe: the percussionist uses a wide array of instruments, often vocalizing while moving between different instruments of the setup; the flute is almost an obbligato soloist, channeling an "Eastern" sound reminiscent of the "Eastern turn" adopted by Mackey in Blue Fasa.