Christine Andreas' Piaf No Regrets Goes Collector's Item Vinyl On PS Classics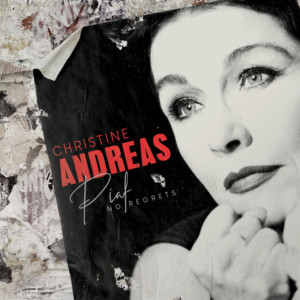 Broadway award-winning star and concert star Christine Andreas will release limited signed vinyl of her newest album Christine Andreas Piaf-No Regrets on PS Classics available online only starting on April 23, 2019. Christine has been touring the U.S. and abroad with her much-acclaimed one-woman show Piaf, No Regrets.
This new album was recorded in London with a 36- piece orchestra, conducted and orchestrated by Larry Blank and produced by Martin Silvestri. Singing both in English and in French, Andreas draws from her one-woman show, where she was lauded by The New York Times..." Andreas's ravishing voice with its rapid vibrato, metallic edge...(and) snapping emotional electricity, has made her a potent interpreter of Piaf."
"Edith Piaf is one persistent life force...and not knowing where that force is currently residing, I am stating here and now...Piaf is haunting or downright stalking me!" Andreas went on to say, "I think she wanted her record to be set straight. Piaf did her own PR, she promoted a lot of 'fake news". I tell a truer, more humanizing story. She was a great soul. Yes, she had a crazy life, but she lived the life she wanted, fueled by her boundless joie de vivre. Her credo, the most important thing in life is a resilient heart. The people who knew her, her closest friends, spoke of her warmth, her continual laughter, her generosity and capacity for friendship, how she vibrated to the music and her biggest love affair was with the audience.
On the release of the vinyl, Christine says "As a kid, I remember hitting the hifi with the latest Broadway show album cradled in my hands. It was of course all about the music, but it was the unbridled excitement and anticipation of the experience, the ritual, the cover art, the weight of the vinyl...the mood began the moment you heard the needle pop when you dropped it on the plate... it was another world and I still feel the thrill. Now, that vinyls are becoming popular again and turntable sales are soaring, this recording seemed the perfect opportunity to offer a new generation that same experience."
The special vinyl edition is available now only on PS Classics website, www.psclassics.com and www.christineandreas.com. There is only a special limited amount of 300 pressings that are signed and individually numbered and autographed.
In other news, PS Classics has acquired Andreas' first album Love is Good (1997 and out of print for 10 years) and has made the album available for the first time on all digital and streaming platforms. Love is Good is another album conceived out of love and received to raves. Lyricist Hal David said at the time "Many singers have lovely voices. Very few interpret the lyrics the way they were meant to be sung. On this, her first solo CD, Christine Andreas does just that. I can only applaud!". With the new release of Love is Good, PS Classics is now home to all four of Andreas' solo albums, as well as her acclaimed performance in the Tony Award © revival of La Cage Aux Folles and on the star-studded "The Maury Yeston Songbook. PS Classics co-founder Philip Chaffin says "We're so proud to have all four of Christine's golden discs on our label. She is very much one of PS Classics defining artists, and our association with her has been one of the highlights of our last 20 years".
Christine Andreas is a two-time Tony© Award nominee for her performances in Oklahoma! and On Your Toes. She captured theatergoers' hearts as Eliza Doolittle in the 20th anniversary production of My Fair Lady and also appeared as Jacqueline in the last revival of La Cage aux Folles as well as The Scarlet Pimpernel and the national tour of The Light in the Piazza. Her cabaret shows Love is Good, The Carlyle Set, Here's to the Ladies and Café Society have been performed at Feinstein's 54 Below, Café Carlyle and the now deceased Oak Room at the Algonquin with the New York Times accusing her of "electrifying her audiences!". The larger stages of Carnegie Hall, Lincoln Center, The Kennedy Center as well as PAC's and major symphonies nationwide garnered her the prestigious Mabel Mercer Award and the 2016 Bistro Award for Ongoing Artistry in Concert and Cabaret. With her husband, Grammy-nominated arranger/composer Martin Silvestri, Christine starred in his musical The Fields of Ambrosia on London's West End, followed by concerts in London, Paris, Rome, Australia and the White House. Her new one-woman show Piaf No Regrets is currently on tour and presented by Columbia Artists Theatricals. For all information on Christine, the album and the tour visit www.christineandreas.com
PS Classics, founded in 2000 by Tommy Krasker and Philip Chaffin, is a nine-time Grammy Award nominee for its cast albums of Assassins, Nine: The Musical, Grey Gardens, Company, A Little Night Music, Sondheim on Sondheim, Follies, Porgy and Bess and Fun Home. The label's catalog includes award-winning cast recordings, solo albums by such artists as Cheyenne Jackson, Victoria Clark, Christine Andreas, Steven Pasquale, Liz Callaway, Stephanie J. Block, Tony Yazbeck, Judy Kuhn and Rebecca Luker and restorations of long-lost musicals including Vernon Duke's Sweet Bye and Bye, George Gershwin's Sweet Little Devil and Vincent Youmans' Through the Years. Visit www.psclassics.com
Related Articles View More Music

Stories
More Hot Stories For You