CMA Foundation Honors 2018 Music Teachers of Excellence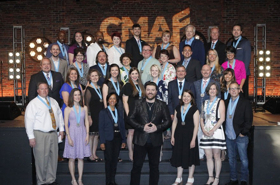 The CMA Foundation honored 34 music educators during the third annual CMA Music Teachers of Excellence ceremony last night, Tuesday, May 8, at Nashville's Marathon Music Works. The invite-only event, hosted by RCA Records Nashville recording artist as well as CMA and CMA Foundation board member Chris Young, celebrated teachers from districts across the state of Tennessee as well as cities Chicago, Cincinnati, Los Angeles and Seattle for their advocacy and commitment to music education. More than a dozen Country artists and celebrities attended the ceremony in addition to Nashville Mayor David Briley, Metro Nashville Public Schools Superintendent Shawn Joseph, CMA and CMA Foundation board members, industry leaders, and representatives from eight CMA Foundation beneficiary programs.
"I am honored as we celebrate 34 music teachers from across the state of Tennessee and beyond who have demonstrated excellence-not only in their classrooms, but in their communities, those who work tirelessly to help our young people develop a love for music," said Sarah Trahern, CMA Chief Executive Officer.
"Success in the classroom does not happen by accident," said Joe Galante, CMA Foundation Chairman. "Without effective, innovative, and talented music teachers-and the support of their principals, superintendents and the greater community-successful music programs would not be possible."
"Your students will remember everything you do for them," said Young, a product of music education himself. "They will remember the patience and passion you have when you teach and how you helped build their confidence and gave them self-worth. Music teachers can shape their students in ways you might not even realize. I'm living proof of that."
In addition to Young, artists, songwriters and celebrities in attendance included Jimmie Allen, Craig Wayne Boyd, Kix Brooks, Max Camp, CB30, Adam Craig, Jacob Davis, Devin Dawson, Jerry Douglas, Lindsay Ell, David Fanning, Nicolle Galyon, Hunter Hayes, Kristi Hoopes, R&B trio SWV's Taj Johnson-George, Tracy Lawrence, Steve Moakler, Eric Paslay, Walker McGuire, and Charlie Worsham.
Kicking off the evening, students from Nashville's Andrew Jackson Elementary School's Eagle Honor Choir performed "This Is Me" from the film "The Greatest Showman," under the direction of two-time Music Teacher of Excellence Franklin Willis, followed by Antioch, Tennessee's Mt. View Elementary School's Little Kids Rock Band who surprised Young with a performance of his song "Voices" from his album The Man I Want to Be, under the direction of two-time Music Teacher of Excellence Mark Hale, all while Young proudly sat front and center in the audience watching.
In a heartwarming moment, Young presented University of Tennessee student and Pride of the Southland Band member Darius Edwards with a check to fund the saxophone of his dreams. Edwards launched a GoFundMecampaign in March to raise funds for a silver Yamaha EX alto saxophone. "I made it through my first year at UT borrowing everyone else's horn in the studio, and while it's great to use everyone else's horn, it would be nice to have my own, so I'm currently raising funds to purchase a silver version of this one," said Edwards from the stage following a standout solo performance. Thanks to the generosity of Yamaha, Edwards will receive his silver saxophone. And before letting Edwards leave the stage, Young committed to personally match the donation so that Edwards can purchase additional instruments he's trained in.
Throughout the evening, videos from the CMA Foundation's recent trip to Kansas played for attendees, where music teachers discussed their love of music and what made them want to become a teacher, their advocacy for music education and the importance of networking with other teachers to develop a support system. When teachers were asked what skills students develop from music education, the list was plentiful-work ethic, listening, team work, self-confidence, and empowerment, among many others, with one word to describe the power of music-magic.
Give A Note Foundation, one of many organizations the CMA Foundation invests in, was represented with five teachers attending the event. The teachers- Ethan Chessin, Ginny Coleman, Brian Gallagher, Chris Gemkow, and Warren Mize -are all recipients of Give A Note's Music Education Innovator Award, which honors educators using innovative and sustainable strategies in non-traditional or traditional secondary music courses that attract students not typically enrolled in music education courses. The CMA Foundation is a founding sponsor of the Music Education Innovator Award grants.
The CMA Foundation created the Music Teachers of Excellence program in 2016 in an effort to recognize the best and brightest music teachers from Nashville and beyond. Award recipients were selected because of their dedication to delivering a quality music program to their students and the impact they've had on their school community through music. In addition to a night of celebration, these dedicated educators will each receive $5,000 from the CMA Foundation to not only support their classroom needs, but to support their professional development as well.
2018 Music Teachers of Excellence Recipients:
Pam Andrews, Station Camp Elementary School, Gallatin, TN
Ronda Armstrong, Stanford Montessori Elementary School, Nashville, TN
Jennifer Barnes, Lockeland Elementary Design Center, Nashville, TN
Lisa Benton, Heritage Middle School, Thompson Station, TN
Rita Black, Eakin Elementary School, Nashville, TN
Christopher Blackmon, Thomas A. Edison Elementary School, Antioch, TN
Jacob Campos, Franklin High School, Franklin, TN
Darnella Davidson, Los Angeles Unified School District, San Pedro, CA
Joel L. Denton, Ooltewah High School, Ooltewah, TN
Benjamin Easley, Nolensville High School, Nolensville, TN
Kim Folsom, Dan Mills Elementary School, Nashville, TN
Lisa Forbis, Hume-Fogg Magnet High School, Nashville, TN
Elizabeth Fortune, Washington Middle School, Seattle, WA
Glenn Fugett, Nashville School of the Arts, Nashville, TN
Mark Hale, Mt. View Elementary School, Antioch, TN
Katie Harrah, Oliver Middle School, Nashville, TN
Trey Jacobs, Nashville School of the Arts, Nashville, TN
Kevin Jankowski, Oliver Middle School, Nashville, TN
Julie Jolly, West End Middle School, Nashville, TN
Andrew McGuire, Roger C. Sullivan High School, Chicago, IL
Anna Maria Miller, Hume-Fogg Magnet High School & Martin Luther King Jr. Magnet School, Nashville, TN
Jennifer Partridge, Gower Elementary School, Nashville, TN
Dr. JD Phillips, Oak Ridge High School, Oak Ridge, TN
Lauren Ramey, Ravenwood High School, Brentwood, TN
Alaina Schwartz, Crieve Hall Elementary School, Nashville, TN
Matthew Taylor, Meigs Magnet Middle School, Nashville, TN
Christina E. Tierney, Roselawn Condon Elementary School, Cincinnati, OH
Barry Trobaugh, Munford High School, Munford, TN
Alice Asako Walle, Waverly Belmont Elementary School, Nashville, TN
Paul Waters, Bellevue Middle School, Nashville, TN
Kristina Waugh, Rossview Middle School, Clarksville, TN
Franklin Willis, Andrew Jackson Elementary School, Old Hickory, TN
Chad Witemeyer, Henry C. Maxwell Elementary School, Nashville, TN
Alexis Yatuzis-Derryberry, Lascassas Elementary School, Lascassas, TN
The CMA Foundation thanks in-kind sponsors Budweiser, Delta Air Lines, Domaine Chandon, FLWR Shop, Marathon Music Works, Mike Maxwell and Company, LLC, MooTV, Morris Light and Sound and Uber.
CMA Foundation
Established in 2011 as the philanthropic arm of the Country Music Association (CMA), the CMA Foundation is committed to improving and sustaining music education programs across the United States, working to ensure every child has the opportunity to participate in music education. Through strategic partnerships, professional development and grant distribution, the CMA Foundation, a nonprofit 501(c)(3), has invested more than $21 million in over 85 programs across the national public school system, after school programs, summer camps and community outreach organizations. Guided by the generosity of the Country Music community, proceeds from CMA Fest, the four-day long music festival held annually in Nashville, are used to power the CMA Foundation's social impact and unique model of giving.
Image: Host Chris Young (center) joins the 2018 CMA Music Teachers of Excellence honorees Tuesday, May 8 at Nashville's Marathon Music Works.
Photo credit: Kayla Schoen/CMA