Brooklyn School of Music Presents Exchange Concert with Suzuki String Students from Ecole d'Art Musical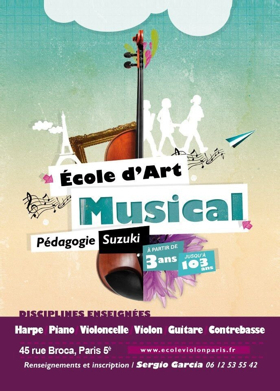 Brooklyn Music School (BMS) presents an Exchange Concert with Suzuki String Students from Ecole d'Art Musical on Sunday, April 22, 2018 at 6pm at 126 Saint Felix Street, Brooklyn, NY. Tickets are free, and more information can be found at https://bms-french-school-exchange-concert.eventbrite.com.
Join BMS for a special concert where they welcome students from the acclaimed Ecole d'Art Musical - a Suzuki Strings School in Paris, France. Over 50 students and parents of all ages will come from Paris to the Brooklyn Music School to participate in a cultural and musical exchange through the medium of music. In the concert, students from both schools will perform pieces together and separately.
Throughout the years, the Brooklyn Music School has participated in several musical exchanges with schools in Europe, including music schools in Belgium and France. The strings department in the Brooklyn Music School has grown significantly over the past several years as well. What started as a small chamber orchestra has blossomed into a full youth orchestra and two adult orchestras!
BMS strings students and students from Ecole d'Art Musical will join together on the BMS Theater stage for a concert showcasing how music unites and goes beyond borders of language and nationality.

Founded in 2012 in Paris, France, the Ecole d'Art Musical offers lessons to children starting as young at 3 years old. The pedagogy at Ecole d'Art Musical is inspired by the Suzuki and Rolland methods. This teaching method respects the speed of progression of each child, and it is based on a triangular balanced participation of the teachers, parents, and students. At Ecole d'Art Musical, there is the possibility for children to get together with each instrument and to rehearse orchestral pieces and also solo pieces in front of their classmates. Ecole d'Art Musical strives to create an emotional and supportive relationship between the students and supports them in developing their autonomy. This is a school where children learn to listen to each other, to respect each other, and to work together (in their collective lessons and concerts).
The Brooklyn Music School views music and performance as the birthright of all people, an essential way that human beings connect with others and explore their creativity. The study of music has been demonstrated to enhance academic learning and helps to develop discipline and confidence that will serve children well throughout their lives.As part of the vision of reinventing the community music school for the 21st Century, BMS is dedicated to:
* Making high quality musical instruction approachable and affordable to a wide range of students,
* Creating frequent opportunities for performance for our students and cultural enrichment for our community,
* Representing a wide range of musical traditions, including European, African, Middle Eastern, and American to represent the diversity of Brooklyn's musical talent, and
* Offering a warm and welcoming space for families and individuals to explore new talents and make lasting friendships.