BWW Review: Santana Brings Down House of Blues with Electrifying Performance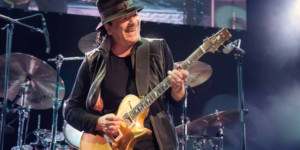 For anyone who hasn't been to a Santana concert in their lives, do yourself a favor and do so. I've now seen Santana 5 times and each time I've seen Carlos Santana and his crew, they sound better and better. Being from Chicago, all the times I've seen him, I've been there. This time around, since I was in Las Vegas, NV, I thought why not check out his show as part of his residency at the House of Blues at Mandalay Bay.
Out of all of the House of Blues' I've been to, this one had to be the most intimate and was a perfect setting to accompany one of the greatest guitarists of all time. As fans we slowly trickling in, I slowly moved to the front row. Cindy Blackman Santana (Carlos' wife) walks out onto the stage and sits at her drum kit. The show begins.
Throughout the evening the core band consisting of Carlos Santana (Guitar, Vocals), Andy Vargas (Vocals), Benny Rietveld (Bass), David Mathews (Keyboards), Karl Perazzo (Percussion), Tommy Anthony (Guitar, Vocals) and new singer Ray Greene (Vocals), ripped through hit after hit with some deep cuts thrown in and no break in between. Carlos barely talked at the microphone as the band was sounding their killer best.
Songs throughout the night included the well-known hits "Soul Sacrifice," "Evil Ways," "Black Magic Woman," "Oye Como Va" and "Smooth" to deep cuts like "Toussaint L'Overture," "Corazon Espinado," "Incident at Neshabur," and "A Love Supreme."
Greene and Vargas on vocals both captured the essence and spirit of Santana and they never looked happier in that element. Cindy Blackman Santana is a monster on the drum kit. Hands down, one of the best drummers I've seen on a stage. Each of the other band members shined in their own right as Carlos threw many of them solos off the fly throughout the night.
Overall, this was the best time out of six that's I've seen Santana. They brought down the house! If you are in Las Vegas, I highly recommend you check out Santana's residency at the House of Blues.
Related Articles View More Music

Stories
Kevin Pollack is a singer/actor/songwriter from Chicago. Other than working for BroadwayWorld, Kevin is a booking agent and started his own publication called Rock Chicago (read more...)