BWW Review: Kylie Minogue Introduces 'Golden' Album with Some Surprise Treats for NYC Fans at Bowery Ballroom
Just after the glitter had settled from her sold-out headliner performance on Pier 97 for the second year of Pride Island, an evolution of NYC Pride "Dance on the Pier" (a 30+ year institution now transformed into a multi-day LGBTQ cultural experience), Australian dance-pop diva and gay icon, Kylie Minogue, and her band played an intimate concert at Bowery Ballroom on a Monday evening to another sold-out throng of adoring fans.
This sudden add-on date was an extraordinary gift for Kylie fanatics as it's a rare treat to see a superstar like her (hailed as a "Princess" or "Goddess of Pop," she is recognized as the highest-selling Australian artist of all time) and so up-close and personal, although other acclaimed artists such as Patti Smith and Morrissey have also favored the historic, under 600-person capacity Bowery Ballroom for its exceptional sound system, relaxed, friendly staff and ability to get cozy with an NYC audience in a way that colossal Madison Square Garden or Barclays Center could never allow. To make it even more special, the two New York shows were the only currently announced U.S. tour dates scheduled to promote her new album, Golden.
"Personal" is a good description of the laid-back concert and Minogue's newest release. Recorded in Nashville, Kylie has tapped into her inner Dolly Parton (and outer, as she performed Parton's "9 to 5" and the Kenny Rogers duet "Islands in Stream") as well as followed in the footsteps of other dance-pop peers and released a stripped-down, heartfelt record with a electro-pop-country core, much like Madonna's Music and Lady Gaga's Joanne. It's an interesting trend that seems to occur for many female artists who are mostly known for their synthy club hits, that at some point in their careers they reduce the electronic buzz and revert to more acoustic roots. But who knew an Aussie's musical roots would be buried in the American South of Tennessee!
The songs on Golden have a youthful feel that, thanks to co-producer Sky Adams who excels at crafting mellower electro-pop sounds for acts such as Zak Abel and Gorgon City, is more akin to early-mid career pop-country star Taylor Swift than Minogue's fellow dance and synth-pop divas. Not so surprising, for she collaborated with songwriters Nathan Chapman who writes for Swift and Steve McEwan, who pens tunes for Carrie Underwood and Faith Hill among others, was in attendance at the New York show.
There's an almost teenage dreamy innocence and sweetness throughout Golden but with none of the adolescent angst felt from the 30s-and-under singers. At 50 years old, Kylie is a woman who's seen, done and been through it all (including a publicly known battle with cancer in 2005) so she's ready to show her softer side and is clearly comfortable in her own skin (as demonstrated in her bare-faced music video for the title track).
She was all aglow on the Bowery Ballroom stage as she performed songs from Golden with her gilded voice and matching microphone, supported by a fantastic band and backup singers who shared the laughter and familial comfort with each other of those who spend a lot of time together and enjoy it immensely.
As any artist who forays into a different direction musically than the style or "brand" that brought them to fame knows, dramatic changes can be a risk to alienate fans. Or they can be just the ticket to refresh and invigorate both the artist and their audience. This certainly seems to be the case with Golden, for when she opened the show with the title track, followed by "One Last Kiss," "Raining Glitter" and "Shelby '68," -- co-written by her long-time writer/producer partners Biffco who co-created Kylie classics like "Love At First Sight" and "In Your Eye" -- a touching tribute to her father and his love of classic muscle cars, all from the new record, she seemed to be genuinely surprised and deeply moved that the American crowd knew every word by heart and sang it back to her.
So the risk was well worth taking and Minogue's fans were rewarded further with particular treats such as a Golden-style version of electro-pop hit "Breathe," and a tribute to the world's greatest metropolis, "New York City," an upbeat, dance demo with catchy lyrics where Kylie even fast-talk raps a bit, that didn't make the cut for the new album as it was deemed not well fitting with the rest of its theme. But the namesake city's audience love it so much they caught on to the words immediately and sang along. It was such a favorite that Minogue even decided to hit repeat and play it once more as a spontaneous add-on encore finale.
Of course some of the favorite mega hits such as "Love At First Sight," "The One" and "Slow" were performed with the panache and signature sweetheart sex appeal much to the delirious delight of her fans, but it was the last song on the encore set that sent the adoring New Yorkers out into the streets into the humidity on a Monday night, most of them surely still coming down from Pride weekend, with a true sense of joy and hopefulness. "Dancing," from Golden is the perfect blend of the new and old Kylie and its lyrics: "Can't stand still, won't slow down" and chorus "When I go out I wanna go out dancing," with allusions to "final curtain falls," evoke something deeper than a night on the town, instead it reveals a person reflecting on how they choose to live their life to the fullest in the short time we have.
But be it with sweet and soulful electro-pop-country tunes or nu-disco beats, this "Goddess/Princess of Pop" certainly knows how to get New Yorkers, and the rest of the world, dancing!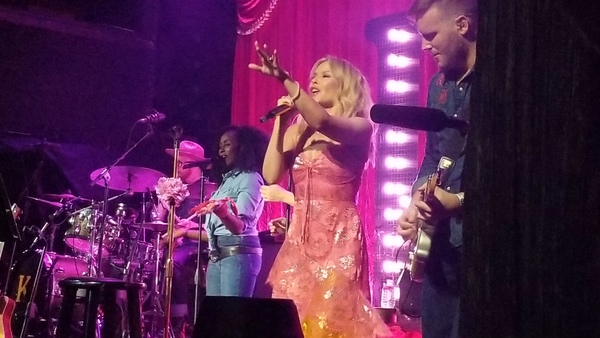 Kylie Minogue and band perform at Bowery Ballroom on Monday, June 25, 2018, following headlining NYC Pride 2018 Pride Island performance the evening before. Photo by Kylie Minogue and band performing at Bowery Ballroom, Monday, June 25, 2018. Photo by @TheMickLewis

Kylie Minogue and band perform classics and songs from here new album Golden at Bowery Ballroom. Photo by @TheMickLewis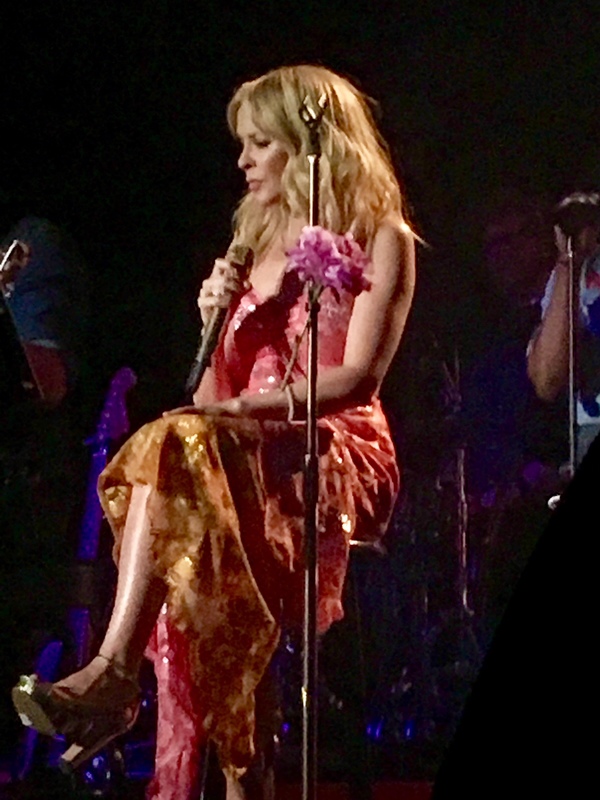 Kylie Minogue shares a personal moment with the intimate, sold-out crowd at Bowery Ballroom in NYC. Photo by BWW staff Cindy Sibilsky