Kuinka MISTAKENLY BRAVE Video Premieres at PopMatters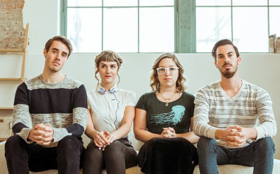 Kuinka is happy to announce that the video for "Mistakenly Brave" from their Stay Up Late EP has premiered at PopMatters. A winter U.S. tour (including a stop at a certain Tiny Desk in Washington, D.C.) in support of the release begins January 17th at The Dip in Redding, CA.
Gin up some courage and get mistakenly brave right here:
Nathan Hamer explains that "the music video for Mistakenly Brave was first born when we stumbled upon some old ornamental French horns in a thrift shop and thought, "wouldn't it be hilarious if we made a music video where we performed with old renaissance instruments instead of our own?" The idea sort of snowballed out of control from there and got increasingly ridiculous. And with today's political climate, the idea of playing music for a self-obsessed tyrannical king also seemed fitting."
"A fascinating, jubilant record, providing an electronic jolt into modern Americana, while waltzing along the edges of dream-pop, synth-pop, and mid-aughts guitar-rock. It's one uplifting mother, packed with creative fits and bursts." - Vanyaland on Stay Up Late Kuinka 2017 / 2018 Tour Dates:
DEC: 23 - Green Frog Bellingham, WA
31 - First Night Tacoma Tacoma, WA JAN: 17 -
The Dip
Redding, CA
18 -
Sweetwater Music Hall
Mill Valley, CA
19 - Tiny Porch @ Cornell Winery Agoura Hills, CA
20 -
Last Exit
Live Phoenix, AZ 25 - Gypsy Sally's / Tiny Desk Washington, DC
26 -
Mercury
Lounge New York, NY
27 - Caffe Lena
Saratoga
Springs, NY
28 -
World Cafe Live
Philadelphia, PA
31 -
Club Cafe
Pittsburg, PA FEB: 01 - The
Basement
Columbus, OH
02 - Schubas Chicago, IL
03 - The
Bootleg
St. Louis, MO
06 - Ann Arbor, MI The Ark
07 - Indianapolis, IN HiFi Indy
08 - Kalamazoo, MI Bell's Eccentric Cafe
09 - Davenport, IA Redstone Room
10 - Iowa City, IA Iowa City Yacht Club
11 - Madison, WI The Frequency
16 - Kansas City, MO Folk Alliance International
17 - Omaha, NE The Slowdown* *Co-headline w. Trout Steak Revival FOR MORE INFORMATION, VISIT:
https://www.kuinkatheband.com/
https://www.facebook.com/kuinkatheband/