New York Live Arts Presents Netta Yerushalmy's Epic Four Hour, Six Part Series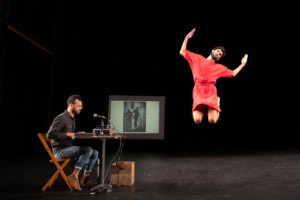 New York Live Arts (Live Arts) to present the New York premiere of Netta Yerushalmy's Paramodernities, March 14-17, 2019, having commissioned the work as part of the Live Feed Residency Program. The complete six-part encyclopedic series is a multidisciplinary work that weaves theory and performance into a four-hour-long hybrid event. Yerushalmy and a cast of 20 dancers and scholars, ranging in age from 20 to 68, perform deconstructed installments of Nijinsky's "Sacre" (1913), Graham's "Night Journey" (1947), Ailey's "Revelations" (1960), a mix of Cunningham works "Rainforest," "Sounddance", "Points in Space", "Beach Birds", and "Ocean" (1968-1990), dance numbers from the 1969 Fosse's film "Sweet Charity", and a response to Balanchine's "Agon" (1957) that includes none of the original choreography.
Paramodernities boasts a radical and undefinable rethinking of the canon, involving virtually no music. Each section was created as an independent unit with a distinct creative process that features text, read live, by scholars and writers from various fields who place the dances within a larger context. The cast joins Yerushalmy in generating questions about the different paths taken by the modern tradition in dance and beyond. Within each installment, fundamental tenets of modernism are explored, such as sovereignty, spectacle, race, feminism and ableism.
The performances at New York Live Arts theater feature dancers Michael Blake, Gerald Casel, Marc Crousillat, Brittany Engel-Adams, Joyce Edwards, Stanley Gambucci, Taryn Griggs, Magdalena Jarkowiec, Nicholas Leichter, Jeremy Jae Neal, Hsiao-Jou Tang, Megan Williams, Netta Yerushalmy; and scholars/writers Thomas F. DeFrantz, Julia Foulkes, Georgina Kleege, David Kishik, Carol Ockman, Mara Mills, Claudia La Rocco, with lighting by Tim Cryan and costumes by Jarkowiec.
The pioneering, inclusive March 16th performance will feature audio description for visually impaired audience members executed live throughout the entirety of the 4 hour event.

Performances of Paramodernities take place at New York Live Arts (219 West 19th St New York, NY 10011) March 14, 15, 16 at 7:00pm, and March 17 at 3:00pm. Tickets start at $30 and can be purchased here. The running time is approximately 4 hours, including two intermissions with refreshments.

The Live Feed creative residency program is a laboratory for the development of new commissioned work directed toward the Live Arts theater. The Live Feed program is supported in part by the Rockefeller Brothers Fund National Endowment for the Arts, New York City Department of Cultural Affairs, and Partners for New Performance.

PARAMODERNITIES is made possible by the New England Foundation for the Arts' National Dance Project, with lead funding from the Doris Duke Charitable Foundation and The Andrew W. Mellon Foundation. PARAMODERNITIES is a National Performance Network (NPN) Creation Fund Project, commissioned by Jacob's Pillow in partnership with New York Live Arts, HMD's Bridge Project, and NPN. The Creation Fund is supported by the Doris Duke Charitable Foundation, the Andrew W. Mellon Foundation, and the National Endowment for the Arts (a federal agency).

For more information: www.npnweb.org.

PARAMODERNITIES is also commissioned by the Lower Manhattan Cultural Council and developed as part of LMCC's Extended Life Dance Development program made possible in part by The Andrew W. Mellon Foundation (LMCC.net).

The development of PARAMODERNITIES was made possible in part by NCCAkron, the National Center for Choreography at the University of Akron. Additional support came from LMCC's Creative Engagement Fund and residencies at Trinity College, Williams College, the Arts Research Institute and the Department of Theater Arts at University of California Santa Cruz, BAC Space Residency at Baryshnikov Arts Center, Djerassi Resident Artists Program, The Watermill Center - a laboratory for performance, Madison Square Park Conservancy, Harkness Dance Center's Artist-in-Residence Program at 92Y, Movement Research Artist-in-Residence Program, made possible by the New York State Council on the Arts with the support of Governor Andrew Cuomo and the New York State Legislature. Paramodernities #1 was Produced by Hebbel am Ufer as part of Tanz über Gräben: 100 Years of Le Sacre du Printemps, supported by the German Federal Cultural Foundation.


For her extensive body of work Netta was awarded a Guggenheim Fellowship, Jerome Robbins Bogliasco Fellowship, Grant to Artists from the Foundation for Contemporary Arts, commission from LMCC's Extended Life program, Six Points Fellowship, and New York Foundation for the Arts Fellowship. She was recently a Research Fellow at the New York Public Library for the Performing Arts, and is currently a Toulmin Fellow for Women Leaders in Dance at the Center for Ballet and the Arts at New York University, as well as a New York City Center Choreography Fellow. Netta will be an Arts Fellow at Princeton University in 2019-2021.

Her work has been commissioned and presented by venues such as Danspace Project, Jacob's Pillow Dance Festival, Joyce Theater, American Dance Festival, HAU Hebbel am Ufer (Berlin), Wexner Center for the Arts, La Mama, River to River Festival, Center for the Arts/Buffalo, International Dance (Jerusalem), Alvin Ailey American Dance Theater Foundation, 62 Center for the Arts/Williamstown, ODC & Bridge Project, Suzanne Dellal Center for Dance (Tel Aviv), Harkness Dance Festival, International Solo Festival (Stuttgart), Roulette.

Netta works across genres and disciplines: she contributed to artist Josiah McElheny's "Prismatic Park" at Madison Square Park, choreographed a Red Hot Chili Peppers music video, worked with cellist Maya Beiser and composer Julia Wolfe on "Spinning", and collaborated on evenings of theory and performance at the Institute for Cultural Inquiry (ICI Berlin).

Netta grew up in Galilee, Israel. She received a BFA in Dance from NYU's Tisch School of the Arts and has been in New York ever since.

Michael Blake (PM #5) holds an MFA in dance from Purchase College, and a 2010 Bessie Award for Dance and Performance with PARADIGM Dance. He has had the honor of working with many incredible artists in several companies: Murray Louis Dance Company, Jose Limon Dance Company, Donald Byrd/The Group, Joyce Trisler Danscompany, Cab Calloway's Cotton Club Review, The Supper Club, PARADIGM Dance and many more. Michael is an Assistant Professor of Dance at Ithaca College and a teaching artist at several New York City dance schools. He is very excited to be back on the stage performing!

Gerald Casel (PM #6) is a San Francisco based dance artist and director of GERALDCASELDANCE. A graduate of The Juilliard School, he holds an MFA from UW-Milwaukee. He is Associate Professor and Associate Chair of Theater Arts at UC Santa Cruz. Casel received a Bessie award for his work with Michael Clark, Stephen Petronio, Zvi Gotheiner, and Stanley Love. Recent projects include collaborations with Netta Yerushalmy, Keith Hennessy, and an invitation to bring students to Camping at Centre National de la Danse in Paris. He leads Dancing Around Race, a community engagement residency that interrogates racial equity in dance in the Bay Area. www.geraldcasel.co

Marc Crousillat (PM #1 + #4) currently dances for Trisha Brown Dance Company, Tere O'Connor, and Netta Yerushalmy. In the past he has danced for John Jasperse, Wally Cardona & Jennifer Lacey, and Gerard & Kelly. He has shown work at Roulette, Center for Performance Research, Movement Research's Open Performance, HyLo Boutiques, FringeArts Philly, and WeisAcres. He is the recipient of the Princess Grace Award, Dance Magazine's 25 to Watch (2017), and is represented by Clear Talent Group - NY. He received his BFA from The University of the Arts in Philadelphia.

Tim Cryan (Lighting Designer) Previous collaborations with: Berkshire Fringe, BodyStories/Teresa Fellion Dance, Bryn Cohn+Artists, Cat-Scratch Theatre/Jeramy Zimmerman, Delirious Dances/Edisa Weeks, Fiasco Theatre Company, Fusionworks Dance Company, Jiva Dance/Sonali Skandan, LaMaMa Etc, Summer Stages Dance at Concord Academy. He has toured as lighting supervisor for the Martha Graham Dance Company as well as Reggie Wilson/Fist & Heel Performance Group. Tim has taught classes on design and collaboration at Hunter College, Providence College, Dalton School, Bard College at Simon's Rock, and is currently on the faculty of Long Island University's Dance Department, Brooklyn Campus. MFA: NYU Tisch Design. Portfolio: www.timcryan.net

Thomas F. DeFrantz (PM #3) teaches at Duke University and directs SLIPPAGE: Performance|Culture|Technology, a research group that explores emerging technology in live performance applications. DeFrantz received the 2017 Outstanding Research in Dance award from the Dance Studies Association. DeFrantz believes in our shared capacity to do better, and to engage our creative spirit for a collective good that is anti-racist, anti-homophobic, proto-feminist, and queer affirming. DeFrantz acted as a consultant for the Smithsonian Museum of African American Life and Culture, contributing concept and a voice-over for a permanent installation on Black Social Dance that opened with the museum in 2017.

Joyce Edwards (PM #5), a native of Rochester, New York, is an undergraduate student at The College at Brockport (SUNY). Edwards works to earn her degree in Dance, with a second major in African and African-American Studies, and expects to graduate in May of 2019. She thanks Netta Yerushalmy for the opportunity to be a part of this research. Edwards sends a special thank you to her Brockport Dance family for their continued support.

Brittany Engel-Adams (PM #3 + #4) attended the Alvin Ailey School and was the recipient of the Oprah Winfrey Fellowship. She performed with the Alvin Ailey American Dance Theater during their New York City Season, and later toured nationally and internationally with Ailey II. Brittany performed across disciplines for Naomi Goldberg Haas's, Orit Ben-srit, Dance the Yard, Stefanie Batten Bland and Sleep No More. She is featured in the film Chiraq directed by Spike Lee, and was a co-star in the HBO series Boardwalk Empire. Brittany currently dances for Netta Yerushalmy and Donna Uchizono. She is on the faculty at Rutgers University.

Julia Foulkes (PM #5) is a professor of history at The New School and the author of A Place for Us: West Side Story and New York (2016); To the City: Urban Photographs of the New Deal (2011); and Modern Bodies: Dance and American Modernism from Martha Graham to Alvin Ailey (2002). She is also curator of the exhibition "Voice of My City: Jerome Robbins and New York," on view at the New York Public Library for Performing Arts at Lincoln Center until March 30, 2019.

Stanley Gambucci (PM #3)- ocean-bred, black, and femme-has helped realize the work of Xavier Cha, Jonathan Gonzales, Jasmine Hearn, Ralph Lemon, Rashaun Mitchell + Silas Riener, Ambika Raina, Will Rawls, Maddie Schimmel, and others. They understand both their choreographic work and time with Movement Research's Artists of Color Council as a way to thank the girls, the sisters, and the mothers for the mobility and movement their legacies offer. Libations to Alvin!

Taryn Griggs (PM #2) is a dancer and Pilates instructor based in Winston-Salem, NC. She has been creating and performing dances with her husband, Chris Yon, since 2002. Griggs has also danced with Mary Cochran, Sara Hook, Susan Rethorst, Irish Modern Dance Theatre, Liz Roche/Rex Levitates, Anna Sperber, Johannes Wieland, Ivy Baldwin, Tori Lawrence, Karinne Keithley Syers, Sara Smith, Yoshiko Chuma, Hijack, Jodi Melnick and David Neumann. She received a Sage Award for Performance in 2009 and a McKnight Fellowship for Dance in 2012. Griggs teaches Pilates at the University of North Carolina School for the Arts.

Magdalena Jarkowiec (PM #6, Costume Designer) is an Austin-based dancer, choreographer, costume designer and sculptor. She was born in Poland fifteen minutes after her fraternal twin sister, Maria, and grew up in Baltimore City where she studied dance at the public arts high school. She earned a BA in General Studies from the New College of Florida where she started creating her distorted figurative soft sculpture, AKA Giant Mutant Dolls. She spent eight years in San Francisco working as a free-lance dancer, most notably with Alonzo King's Lines Ballet, and then finally convinced her husband to move to central Texas. Her work can be seen at www.magsjarks.com.

David Kishik (PM #1), Associate Professor of Philosophy at Emerson College, is the author of The Book of Shem: On Genesis before Abraham (2018) The Manhattan Project: A Theory of a City (2015), and The Power of Life: Agamben and the Coming Politics (2012), all with Stanford University Press, as well as Wittgenstein's Form of Life (Bloomsbury, 2008). He has been working with Netta since 2013, and in love with her since 1995.

Georgina Kleege (PM #6) teaches creative writing and disability studies at UC Berkeley. Her recent books include: Sight Unseen and Blind Rage: Letters to Helen Keller. Kleege's forthcoming book, More than Meets the Eye: What Blindness Brings to Art, is concerned with blindness and visual art: how blindness is represented in art, how blindness affects the lives of visual artists, how museums can make visual art accessible to people who are blind and visually impaired.

Claudia La Rocco (PM #4) is the author of the selected writings The Best Most Useless Dress (Badlands Unlimited), the chapbook I am trying to do the assignment ([2nd Floor Projects]), and the sf trilogy The Olivias (published in performance, print, and interdisciplinary editions by The Chocolate Factory Theater, Man Pant Publishing, and The Lab). animals & giraffes, her duo with musician/composer Phillip Greenlief, has released July (with various musicians; Edgetone Records) and Landlocked Beach (with Wobbly; Creative Sources). She has writing in numerous anthologies and publications, including Artforum, I Like Softness (Ugly Duckling Presse), On Value (Ralph Lemon, ed; Triple Canopy), and The New York Times, where she was a critic and reporter from 2005-2015.

Nicholas Leichter (PM #3) has taught throughout the United States and at festivals in Africa, Asia, Canada, and Eastern and Western Europe. Leichter has received support from The Joyce Theater Foundation, the Andrew W. Mellon Foundation, NPN, NYFA, The Jerome Foundation,The Greenwall Foundation, The 92nd Street Y New Works in Dance Fund, the American Music Center Live Music for Dance Program, NYSCA, New England Foundation for the Arts (NEFA) through the National Dance Project (NDP), the Doris Duke Charitable Foundation, the Andrew W. Mellon Foundation, the Ford Foundation, and the MetLife Community Connections Fund of the MetLife Foundation, and the National Endowment for the Arts. Program Manager @ArtsConnection

Mara Mills (PM #6) is Associate Professor of Media, Culture, and Communication at New York University, where she co-directs the Center for Disability Studies. Her book On the Phone: Hearing Loss and Communication Engineering, forthcoming from Duke University Press, examines the history of speech and hearing research in the Bell System and its legacy for information theory and digital media. She is currently working on the history of optical character recognition and, with Jonathan Sterne, on the history of audio time stretching technology. Mills has held fellowships from the National Science Foundation, the Mellon Foundation, the American Council of Learned Societies, the DAAD, the Alexander von Humboldt Foundation, and the IEEE.

Jeremy "Jae" Neal (PM #3) was born and raised in Michigan and received his training from Western Michigan University. There he performed in professional works such as Strict Love by Doug Varone, Temporal Trance by Frank Chavez and Harrison McEldowney's Dance Sport. Since relocating to New York, Jeremy has had the privilege of working with SYREN Modern Dance, Christina Noel & The Creature, Catapult Entertainment, Katherine Helen Fisher Dance, Nathan Trice and currently A.I.M and Netta Yerushalmy, as well as spending much time performing in queer nightlife of NYC.

Carol Ockman (PM #2) is a writer, performer, and curator, and professor of art history at Williams College. She is completing a memoir, Sarah Bernhardt's Handkerchief, which is now a one-woman show, about close encounters with stardom, her father's suicide, and the power of objects. Her publications include Ingres's Eroticized Bodies (Yale, 1995) and Sarah Bernhardt: The Art of High Drama (Yale, 2005), the catalog for the award-winning exhibition (The Jewish Museum, New York, 2005-06), produced with Kenneth E. Silver. She is Curator at Large for Marie Selby Botanical Gardens in Sarasota, FL, which puts major works of art in dialogue with living plants.

Hsiao-Jou Tang (PM #5) was born and raised in Taiwan where she studied ballet, modern, traditional Chinese dance and martial arts. She graduated from SUNY Purchase College with a BFA in Dance in 2008. Tang has been a company member of Doug Varone and Dancers since 2012, and has had the great pleasure of working with a number of wonderful people and companies including Kyle Abraham / Abraham.in.motion, the Metropolitan Opera, Shen Wei Dance Arts, Kevin Wynn Collection, Daniel Charon Dance, Nora Petroliunas/The Pharmacy Project, Alex+Xan-the Median Movement, and others. Hsiao-Jou is honored to be able to work with Netta and and all these amazing artists in Paramodernities.

Megan Williams (PM #5) was a member of the Mark Morris Dance Group from 1988-98 and continues her affiliation with Morris as guest rehearsal director and repetiteur. She has served on the faculties of Purchase College and Connecticut College and currently teaches Dance for Parkinson's Disease, Pro level ballet at Gibney, and Anatomy at Marymount Manhattan College and Hunter College in New York City. She has a BFA from the Juilliard School, and an MFA from Sarah Lawrence College. In April 2018 she unveiled her first full evening work , 'One Woman Show' (at Joe's Pub in NYC) as a DanceNOW Commissioned Artist) and recently performed with Rebecca Stenn Company in "Elusive Bird" at the Gowanus Loft.


Related Articles View More Dance

Stories
More Hot Stories For You