Click Here for More Articles on MODERN
BWW Review: Turning Up The Heat With AILEY II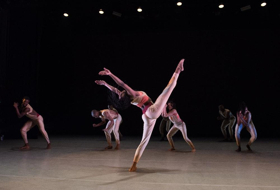 Ailey II kicked off its 2018 New York season at the Ailey Citigroup Theater with dynamic works by some of the most exciting emerging dancers and choreographers. Just as the company wraps up their 32-city world tour, this season brings audiences two thrilling programs with three world premieres along with some contemporary favorites.
I had opportunity to attend the "All New Program" on March 16th featuring works by Darrell Grand Moultrie, Renee I. McDonald, and Juel D. Lane.
The program opened with the piece Road to One by Princess Grace Choreography Fellowship award winner Darrell Grand Moultrie. The dance passionately embraces the journey we all take to find the meaning in our lives to eventually pass it on to the next generation. It was definitely full of excitement and energy! I loved Mr. Moultrie's use of exits and entrances on and off the stage. It allowed for smooth transitions into the next section. It also made it pleasing to look at as there was so much going on. My eyes were constantly moving, trying not to miss anything. The dancers have such strong technique with beautiful, long extensions. I also loved the female trio performed by Corrin Rachelle Mitchell, Yazzmeen Laidler, and Khalia Campbell. They performed with such emotion that it was absolutely breathtaking.
Next was the premiere of Atlanta native choreographer Juel D. Lane's Touch & Agree. This piece explores what it means to be in love and how we commit to another person without losing our own identity. Drawing from his personal experiences as a black gay man, his unique style fuses contemporary, African, and hip hop into a fresh choreographic perspective to the stage. The dance features love relationships and the ups and downs that come with them- the honeymoon phase, fights/arguments, and the process of making up. Very interesting story line. I enjoyed this dance, particularly the last section. It was fun and fierce with lots of fast movements as the dancers vouged across the stage.
The evening concluded with Breaking Point by Renee I. McDonald, a Jamaican born choreographer, that shows the depiction of the fight for our heart's desire. Whether your desire is love, friendship, forgiveness, or a secret longing, it can take you to your limit. This was a very intense dance! It had the ability to draw you in like a really good action film that often has you sitting on the edge of your seat! I loved it!
It may have been a cold and windy evening, but the dancers of Ailey II truly turned up the heat in the theater! The company has been known for their ability to showcase the country's best young talent with today's emerging choreographers. It's great because you get the see stars of the next generation of dance now. You may think that because they are the second company, they are not as good, but that couldn't be further from the truth! This group of young, gifted, and talented dancers is just amazing! Troy Powell is doing a phenomenal job taking the company to new heights.
Ailey II continues its New York season, now through March 24th. I strongly encourage you to check them out. And if you are outside the New York City area, be sure to keep an eye out as they may be coming to a city near you!
For more information, please visit www.alvinailey.org/about/ailey-ii.
Ailey II in Juel D. Lane's Touch & Agree. Photo by Nan Melville
Related Articles
Caryn Cooper is an arts administrator, educator and performer from Long Island, NY. She began her dance training at a young age studying ballet in (read more...)