BWW Review: Program D of the 2017 FALL FOR DANCE FESTIVAL at City Center Delighted a Full House of Dancegoers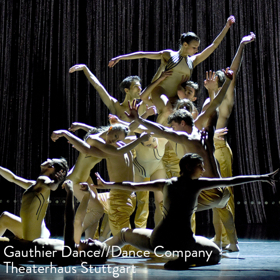 The 14th annual Fall for Dance Festival at New York City Center continued the tradition of offering performances of world premiere commissions for works in diverse dance genres by companies from NYC and around the world. On October 12th 2017, Program D was an eclectic quadruple bill that elicited rousing ovations and cheers from the audience in a nearly sold out house.
Yet the fun began even before curtain time. Ticket holders were invited to get their dance on with a free pre-show dance lesson by Company Wang Ramirez from 6:45 to 7:30 p.m. in the Grand Tier Lobby. Dance lessons were also offered on other evenings during the festival by different artists. This feature of the festival is pure magic. The Grand Tier Lobby was packed on October 12th with people of all ages, a few of them clearly professional dancers but most of them simply adorably enthusiastic dance lovers doing their best to keep up with the moves. I was especially enchanted by the children who joined in, in particular one little boy about 5 or 6 years old who was initially hesitant but turned out to be a little star-in-the-making once he got up the nerve to dance.
The opener of the evening was the U.S. Premiere of Streams, performed by the German troupe Gauthier Dance//Dance Company Theaterhaus Stuttgart with choreography, scenery, and costumes by Andonis Foniadakis to the music of Julien Tarride. This contemporary work with extremely effective lighting by Sakis Birbillis showed off the technical prowess plus compelling stage presence of the dancers as they delivered difficult moves and patterns with deceptive ease.
Next up after a pause was the World Premiere of Drive performed by Abraham.In.Motion (A.I.M.). The piece was choreographed by company artistic director Kyle Abraham in collaboration with the company members and commissioned for New York City Center Fall for Dance. A pulsing, insistent score by Theo Parrish and Mobb Deep kept my attention riveted to the action on stage as great wafts of "smoke" and ever-changing lighting by Dan Scully enhanced the dancing. Born of hip-hop and other dance genres in the late 1970s, A.I.M. is a 21st century gem.
Ah, but after the intermission we were treated to what was for me the highlight of Program D. Celebrated New York City Ballet principal dancer Sara Mearns, acclaimed as "the great ballerina of the era" by Alastair Macaulay of The New York Times, teamed up with hip-hop artist Honji Wang of Company Wang Ramirez in the World Premiere of a hilarious yet touching piece called "No. 1". With choreography by Wang and Sébastien Ramirez and co-commissioned by Jacob's Pillow, New York City Center for Fall for Dance, and Fall for Dance North in Toronto, the work is best explained in Wang's own words as printed in the Playbill: "It was not the goal for Sara to learn hip-hop or for me to learn ballet. It was more about the two languages we use to communicate between our two worlds. Surprisingly, even though they seem so different, in the end they aren't really so different."
The piece began with Wang in a spotlight moving over to another spotlight where a portable ballet barre was waiting. She examined it in the manner of a curious puppy until Mearns appeared, statuesque and towering over Wang, to begin her plies and tendus and the rest an abbreviated version of a typical ballet barre sequence. At that point, the humor escalated when Wang was astonished by Mearns' "six o'clock" penche arabesque with the raised leg pointing skyward. She tried the move herself to no avail. My feeling was that this charming bit came from an actual encounter in the studio when the artists were creating the piece. However, from there Wang's assertion that the two dance genres are not really so different after all became obvious even when Mearns pulled on a tutu and danced on pointe. Mearns and Wang evolved into a true team expressing the universal language of dance. I for one was completely taken by this work.
Even so, with that herd act to follow, the closer by Ballet BC proved to be a winner. The acclaimed Canadian contemporary dance company offered a large and accomplished cast in Bill, originally commissioned for the Batsheva Dance Company with choreography by Sharon Eyal and Gai Behar to original music and soundtrack design by Ori Lichtik. Founded in 1986 by artistic director Emily Molnar, a former member of The National Ballet of Canada, Ballet BC according to the mission statement "actively fosters collaborations that support artists, choreographers and audiences alike, furthering the boundaries of contemporary dance." As such, Ballet BC was a welcome addition to the distinguished roster of companies in the 2017 iteration of Fall for Dance.
Click here to read BWW Danceworld critic Christina Pandolfi's review of Program A, and come back after October 14th for BWW Danceworld critic Caryn Cooper's review of Program E. Here's to many more years of Fall for Dance at City Center!
Photo courtesy of Fall for Dance, New York City Center