Review: NYCB's Swan Lake Is a Vision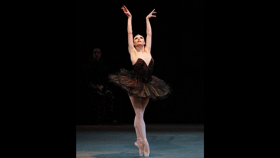 On September 30, 2017, the David H. Koch Theater pulsed with excitement, anticipating the start of Peter Martins' rendition of Swan Lake. A New York City Ballet staple, the company first premiered this production 18 years ago. But with such crisp movement and staging, you would think it was the very first time.
At Act I, the curtain opened on a familiar scene: Prince Siegfried's birthday party. The celebration was in full swing with incredible synergy. But the colors were richer and more concentrated, as the ladies' emerald dresses popped against the men's burnt orange costumes. The always-handsome Tyler Angle as Siegfried was in particularly wonderful form; his confident air matched his strong technical prowess. With every sustained arabesque and powerful tour jeté, he conveyed a quiet solemnity as he longed to find his beloved.
But he didn't have to wait too long. In one of the most exquisite Swan Lake lake scenes I've been privy to, Siegfried found his princess in Sara Mearns' Odette. With a penchant for the dramatic, Mearns is otherworldly in not only her movement, but also her presence. A simple wave of her supple "wings" and the audience was captivated. As the two danced the seminal White Swan Pas De Deux, the drama continued, though I still yearned to feel more of that simple joy and wonderment that comes from true love. The Four Small Swans danced with enviable exactitude; their sharp, straight lines brought depth and dimension to the scene, undercutting the syrupy surrealism that closed out the show's first half.
Act II is really where the uniqueness of this production lies, and where the audience can absorb Martins' proficiency for the unexpected. With a plethora of party guests in the ballroom, including a spirited pas de quatre, a Spanish Dance, and Rebecca Krohn and Amar Ramasar in Russian Dance, it was impossible not to feel the influences of other ballets permeating through. But the familiar pang of Tchaikovsky's heartbreaking score brought us all back, just in time for Odile to enter the stage. Mearns' adaption of the vivacious seductress was subtle; she was controlled and careful, yet fully confident, as she teased Angle's Siegfried with fluttering bourrées and impossible, sky-high extensions.
Though my heart stays tender and true toward Petipa's rendition, I must absolutely commend NYCB - they are true artists and continually change the landscape of ballet, with each and every performance they deliver.
Photo Credit: Paul Kolnik