Review: Chris Bell Dances Around Weighty Themes With Lightheartedness in YouthandDeath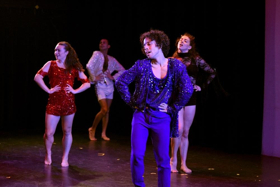 Dancer Chris Bell -- most known for his work as choreographic and directorial assistant to Mark Dendy and as a performer for dendy/donovan projects and Eryc Taylor Dance, among others -- breaks free from the constraints of a company to grab the mic (quite literally in fact) and allow his own unique voice and experiences to be heard in YouthandDeath playing from October 25-27th at Dixon Place, establishing chisbelldances company's world premiere of its first evening-length production with Bell acting as writer/director and choreographer.
Bell was not alone in this debut, he had a little help from his friends. YouthandDeath features two male, two female dancers (half of which are fellow company members of Eryc Taylor Dance: AJ Guevara and Nicole Baker, the other two dancers are London Brison and Katarina Lott) with Bell oscillating between roles as narrator, observer and participant in the action. With such a title and themes of mortality and the cyclical nature of life, the semi-autobiographical YouthandDeath was rife with potential to be a pretentious and navel-gazing first foray. Fortunately it is anything but that.
YouthandDeath contains so much of the spirit of experimental performance art and dance theater that thrived in places like Judson Memorial Church, Caffe Cino, La MaMa E.T.C. in the heyday of New York's downtown underground scene where creativity and expression thrived and rents were low enough, tickets cheap enough and audiences open-minded and curious enough for such creativity to find a home and safe space to share. Dixon Place remains one of the few existing stalwarts maintaining that vital tradition in NYC today.
The piece mingles monologue narration (mostly in the form of memories) from Bell, voice-over sound clips from McCall's Magazine circa 1934 on "What a Housewife Must Know" and "My Little Boy" from @rainydayaudio created by an Australian voice actor as comfort audio and relationship roleplay aimed at cis and trans males, and music that varies from traditional Latin songs to classic or old-fashioned R&B and Blues to current pop divas such as Arianna Grande and Nicki Minaj. The movement is comprised of interpretive, theatrical, action-based gestures rooted in the cast's impressive modern and contemporary dance experience and training.
But what makes YouthandDeath work must be credited to Bell and the ensemble. The balance of gender is further enhanced and offset by the two men (and Bell when he joins them) embracing a sense of delicacy and femininity and the two women exuding strength and groundedness. The sixth member of the cast is the long white silken material that acts as a sheet, boundary, tightrope, linking device and death shroud.
Bell conveys an almost princely nature teamed with a boyish charm and sincerity. He projects a comfort and ease on stage that immediately relaxes the audience as he invites them into his intimate world. The more personal it gets the more dynamic and interesting, but not in a showy or pompous way. As layers are revealed the work gets both deeper and more lightheartedly entertaining, alternatingly and almost all at once is a dizzy spin of events, images and evocations -- much like youth, life and death itself.
Bell explores gender norms, family roles and roots in Part 1: The Beginning and Part 2: Nurturing where the death of his beloved Abuela (grandmother in Spanish) is first mentioned. He then progresses hardcore (again, quite literally, he is in a leather harness with fully-exposed buttocks) into Part 3: Surviving, where Bell and the ensemble explore and enact some of his experiences from his stint as a stripper and hustler, embracing LGBTQ themes and wisdom gained in "19 Things You Learn From Cruising for Public Sex" -- the most entertaining, hilarious and downright titillating portion of the evening -- with gems like "Boys you meet in the toilet are not the ones to introduce to Mama" and "Innocence is a turn on, inexperience is not." The aforementioned @rainydayaudio clip "My Little Boy" is danced as a solo piece by Bell and delves into both the death of his father and his penchant for older men often referred to as "Daddies".
The evening shifts dramatically with themes of death arising again with hints of an overdose, tragic loss and danse macabre as Part 3: Surviving melts into Part 4: Transitioning, which opens with his grandfather in hospice care. Here, instead of dwelling on endings, Bell reflects on his grandparents' meet-cute -- at an event where they were on dates with other people but encountered that rare West Side Story Tony and Maria moment where time stood still and they only saw each other. This quartet that turns into a duet gave AJ Guevara a particular spotlight to express his tenderness, range and goofy sensibilities as the grandfather, where in previous parts the other ensemble had commanded more attention.
Bell as narrator commented that the weight of death is mostly borne by the living but that we can use the experience of our losses to "become better people" and how important it is to cherish family, those who are blood and those we choose, and to live and celebrate life to the fullest.
In the final act of YouthandDeath, Part 5: The End, the entire company is outfitted in glittering sequins (those costumes and the others including the white underwear with words scrawled on them at the beginning -- a possible nod to Janell Monae's video "PYNK" -- were created by Dav Burrington) and performed, exuberantly, to Nicki Minaj's "Young Forever" celebrating youth, life, death, entering the unknown and everything in between -- just like the famous finale in Bob Fosse's (also semi-autobiographical) 1979 film All That Jazz, where Rob Schneider's Fosse-esque character has his Broadway-like send off to the Everly Brothers "Bye Bye Love" with the lyrics: "I feel like I could die. Bye bye my love goodbye."
Chris Bell and the chrisbelldances ensemble for YouthandDeath make the often harrowing and perilous journey from youth to death feel exhilarating and entertaining.

YouthandDeath. Photo by Robbie Donaldson.

YouthandDeath. Photo by Robbie Donaldson.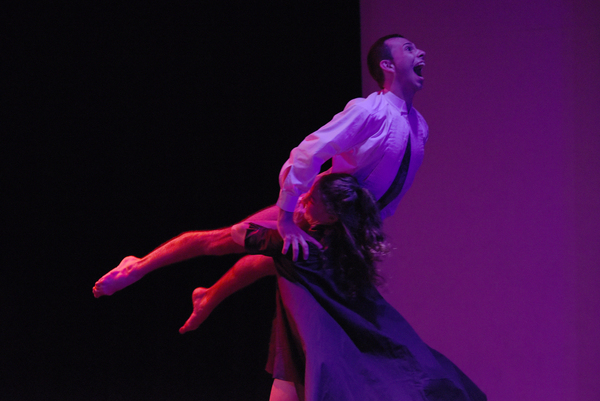 London Brison and Katarina Lott in YouthandDeath. Photo by Robbie Donaldson.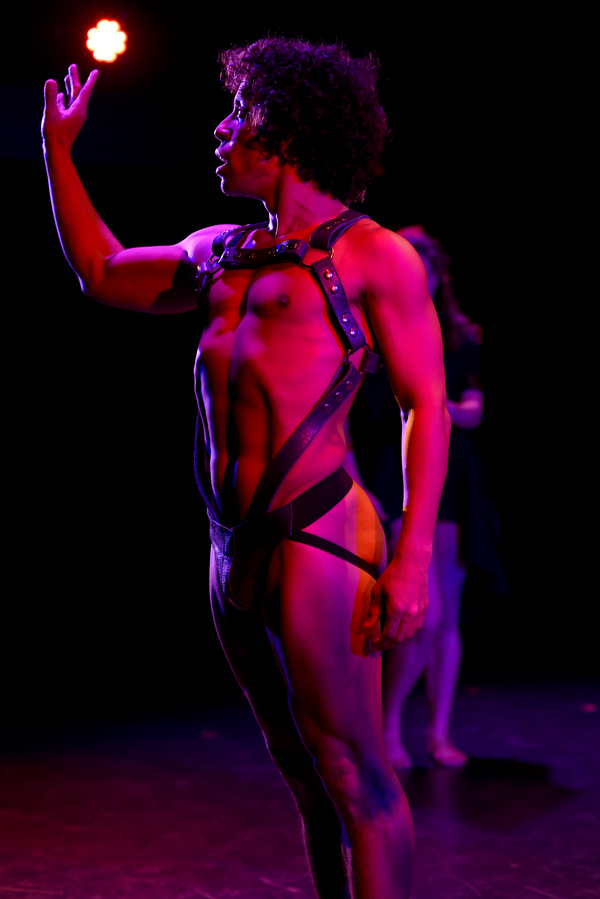 Chris Bell, choreographer, writer, director and performer in YouthandDeath. Photo by Robbie Donaldson.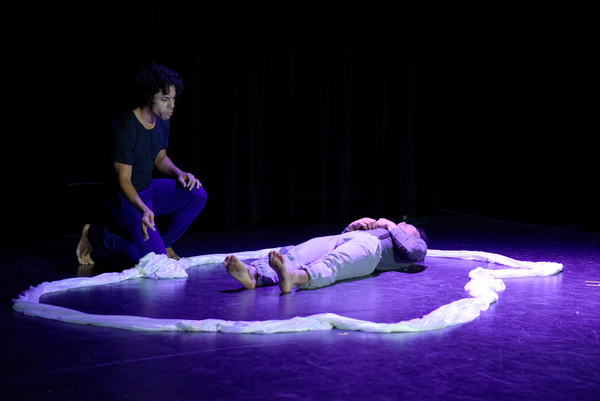 Chris Bell and AJ Guevara in YouthandDeath. Photo by Robbie Donaldson.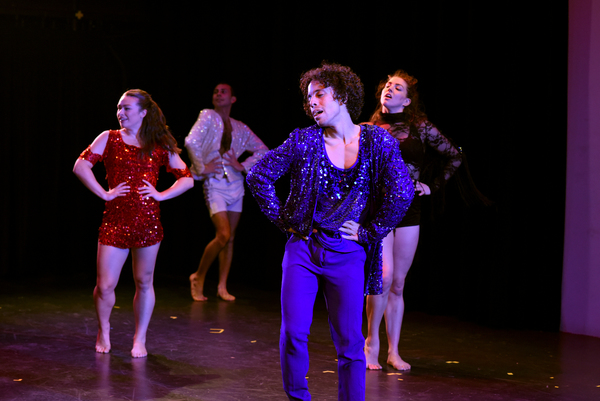 The cast of YouthandDeath. Photo by Robbie Donaldson.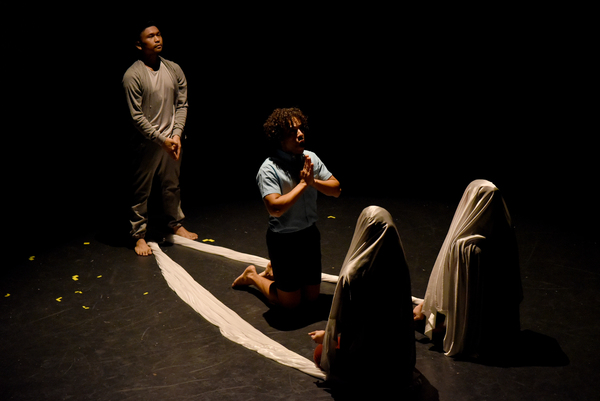 YouthandDeath. Photo by Robbie Donaldson.