Click Here for More Articles on MODERN
BWW Review: ALVIN AILEY AMERICAN DANCE THEATER Landmark 60th Anniversary Season Continues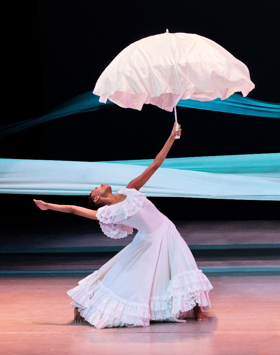 Cultural World Ambassadors, Alvin Ailey American Dance Theater, makes its return to the New York City Center for a milestone celebration of the company's Ailey Ascending 60th Anniversary. As part of their annual five-week holiday engagement, the company honors the artistry and legacy of Mr. Ailey through special performances featuring an exhilarating mix of new premieres, audience favorites, and rarely seen works by Alvin Ailey himself! This celebration coincides with the City Center's landmark 75th anniversary.
The program opened with the classically influenced choreography of Mr. Ailey's Night Creature. Set to the sounds of Duke Ellington, this dance captures the sensual essence of nighttime life. It is very sassy full of circular hips and undulations, with highlights of social dance and beautiful balletic choreography.
Next was a crowd favorite piece entitled Cry. Mr. Ailey made this as a birthday present for his mother that is dedicated to "all black women everywhere - especially our mothers" A solo, originally created on and performed by now Artistic Director Emerita Judith Jamison, the work represents who is a black woman- the trials and tribulations and the joy and triumph over those hardships. In watching it, you can feel the pain, hurt, strength and joy that is found in all black women! Lovely performance- a true favorite of mine.
The evening continued with the rare, yet powerful gem of a dance- Masekela Langage. Here Mr. Ailey is inspired to showcase the parallel between apartheid in South Africa and the race-induced violence in Chicago in the 1960s set to the music of South African jazz musician Hugh Masekela. It is a very heavy and emotional piece- especially in this climate. Each character has their own story and way of dealing with the events happening around them. There are feelings of anger, hostility, fear and frustration. Although this was originally choreographed in 1969, you would never know it is over 40 years old! That is a true testament to the timelessness of Mr. Ailey's work.
The show ended with the masterpiece Revelations. You haven't had a true Ailey experience without seeing this dance. I personally have seen it numerous times, and it never ceases to amaze me. Based on Mr. Ailey's childhood memories attending services at the Mount Olive Baptist Church in his hometown in Texas, the work explores the ideas of coming up from the ground, the baptismal, and church happiness. The dancers always perform this piece with such dedication. The audience truly has a love affair with this dance as it takes you on a journey full of emotions. It's no wonder why this has become the company's signature piece!
In 1958, Alvin Ailey led a group of young African-American modern dancers in a performance at the 92nd Street Y in New York City. Sixty years later, that now-fabled show, led to the growth of one of the world's premiere dance companies thathas performed in 71 countries on sixcontinents for over 25 million people worldwide. Their unprecedented success shows no signs of stopping anytime soon. Here's to another 60 years strong!
Alvin Ailey American Dance Theater's Jacqueline Green in Alvin Ailey's Revelations. Photo by Paul Kolnik.