Sonoran Desert Chorale Presents Long LONG ROAD TO FREEDOM: Songs Of Slavery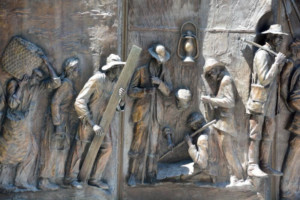 The Chorale closes this season with a story of survival - the journey in song of African people in bondage, from slavery to emancipation. We share this important part of our American musical heritage through the spirituals, hollers, and signal songs that eased the burdens of captivity and voiced a common humanity including There is a Balm in Gilead, Wade in the Water, I Got Shoes, and many more.
Long Road to Freedom performances will take place Saturday, May 5, 2018 at 7:15 P.M. at First United Methodist Church, 15 E. First Avenue, Mesa and Sunday, May 6, 2018 at 2:45 P.M. at La Casa De Cristo Lutheran Church, 6300 E. Bell Road, Scottsdale. A special event opens these concerts and therefore usual start times have been advanced by 15 minutes.
Tickets are now on sale and may be purchased online at SonoranDesertChorale.org or by calling 480-305-4538. Advance single ticket prices are $18 for adults/$15 for seniors, students and groups of 10 or more. Ticket prices at the door are $20 for adults and $18 for seniors/students.
Joining the Chorale for these performances are Dr. Jason Thompson from the ASU Herberger Institute School of Music and Dr. Olga Davis from the ASU Hugh Downs School of Human Communication.
Dr. Thompson, Assistant Professor of Music Teaching and Learning and leader of the ASU Gospel Choir, will provide a pre-concert talk placing these songs in context and discussing their cultural significance. In addition to his Herberger appointment, Dr. Thompson serves as an Affiliate Professor in the School of Social Transformation and affiliate faculty with the Center for the Study of Race and Democracy.
Dr. Davis, Professor in the Southwest Interdisciplinary Research Center, will narrate the concert, offering insight into the backstory and evolution of these pieces. Dr. Davis is an alumna of the Julliard School, Drama Division and has provided narration for PBS Public Television, Mutual of Omaha, and the Nebraska Chamber Orchestra's performance of Aaron Copeland's Lincoln Portrait among others.
These wonderful songs are filled with passion. You will not soon forget a glorious arrangement of Steal Away by Ian David Coleman set with trumpet accompaniment. Or the driving rhythms of The Battle of Jericho. Plan now to share in this memorable concert where the repertoire represents the words of Dr. Martin Luther King, Jr. - "They thought about a better day as they dreamed their dream."

About the Chorale
Sonoran Desert Chorale was founded in 1994 and is led by Music Director Jeff Harris. Since its inception, the group has become a highly regarded and sophisticated choral organization, presenting musical compositions from cultures around the globe as well as important pieces from the European and American music traditions. Concerts frequently include guest performances and collaborations with distinguished artists and organizations in the community such as the Phoenix Children's Chorus, The Southwest Brass, Mesa Caledonian Pipe Band and the Four Seasons Symphony. The Chorale has engaged in six international concert tours, with performances throughout Europe, including Venice, Rome, Florence, Vienna, Salzburg, Prague, Budapest, Ljubljana, Bayeux, Chartres, Galway, Dublin, and Edinburgh. The Chorale was invited to perform with Broadway superstar Michael Crawford for the inaugural concert of the $150 million Mesa Arts Center. The Chorale was selected to appear at the Western Division Convention of the American Choral Directors Association in Salt Lake City, UT.
Significant support is received from the Arizona Commission on the Arts. For more information, see and hear the Sonoran Desert Chorale on the web at SonoranDesertChorale.org
Related Articles
View More Classical Music

Stories
More Hot Stories For You