Click Here for More Articles on NEW YORK CITY
Music Before 1800 to Launch 43rd Season with Blue Heron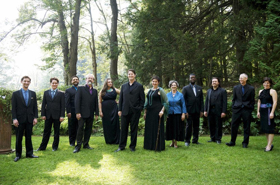 NYC's longest-running early music series Music Before 1800 opens its 43rd season on Sunday, October 1 at 4PM at Corpus Christi Church. The Boston-based choir Blue Heron and director Scott Metcalfe kick things off with a celebration of Ockeghem's 600th birthday.
It's a suitable start for the series as this season places an emphasis on choral music, welcoming back esteemed vocal ensembles Stile Antico, Blue Heron, and Cappella Pratensis.
This program marks the sixth in Blue Heron's Ockeghem@600 project in which the group is performing the composer's complete works (culminating in 2020-21). The program opens with Au travail suis, a song by the obscure composer Barbingant that nonetheless inspired the three pieces by Ockeghem: his song Ma maistresse, Missa Au travail suis, and Missa Ma maistresse. The final motet is by an esteemed contemporary, Johannes Regis. Blue Heron has been acclaimed by the Boston Globe as "one of the Boston music community's indispensables" and hailed by Alex Ross in the New Yorker for its "expressive intensity."
IF YOU GO:
BLUE HERON
Ockeghem@600: Ma Maistresse, Masses, and a Motet
Sunday, October 1, 4PM
Corpus Christi Church
529 West 121st Street
Tickets: $10-45
212-666-9266 / www.mb1800.org
MB1800, a NYC institution, is the city's longest-running series devoted exclusively to early music. Since the series' inception, concerts have been presented at Corpus Christi Church in Morningside Heights, giving audiences a uniquely satisfying experience. The 2017-18 places an emphasis on choral music (especially Renaissance), welcoming back esteemed vocal ensembles Stile Antico, Blue Heron, and Cappella Pratensis. Series debuts will be made by exciting NYC ensembles LeStrange Viols and House of Time.
Louise Basbas is the founder and director of the series. The New Yorker praised MB1800, calling it "the essential series." Time Out New York remarked: "The resonant acoustics of Corpus Christi Church will deliver you into your own personal solitude.... Few other venues can claim this fusion of strong programming and quality auditory surroundings."
Music Before 1800 is made possible by the New York State Council on the Arts with the support of Governor Andrew Cuomo and the New York State Legislature. MB1800 is also supported, in part, by the New York City Department of Cultural Affairs in partnership with the City Council.
Related Articles
More Hot Stories For You