Thought-Leader Hylke Faber Collaborates with Columbia Business School...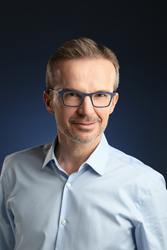 Leadership coach, facilitator, and author, Hylke Faber will launch the latest segment of his highly sought-after executive online learning series, Leader as Coach: Coaching as a Leadership Approach, Mindset, and Process, on October 1, 2018. Faber's first book, "Taming Your Crocodiles: Unlearn Fear & Become a True Leader" (IXIA Press, May 2018), is the curriculum cornerstone for this ongoing collaboration between Columbia Business School Executive Education and Constancee, Faber's coaching organization. Faber commented: "Leaders are most remembered for the impact they had on others. This program is designed to help executives learn how to coach themselves and others to lead with greater authenticity, empathy, and effectiveness."
"Taming Your Crocodiles" distills the author's personal experience into a guide to help readers grow into leaders by transforming "crocodilian" fear-based conditioning into "owl" mind-sets and behaviors that reflect an individual's true essence. Selected as one of Bloomberg's 10 Best Books on Leadership in 2018, the "Taming Your Crocodiles" ethos serves as an endless source of fulfillment, innovation, and connection.
Praise for The Leader as Coach Program and "Taming Your Crocodiles" comes from leaders of public and private industries including Microsoft, Bill & Melinda Gates Foundation, REA Group, Boehringer Ingelheim South America, Bristol Myers Squibb, Dartmouth College's Tuck School of Business, and many others.
Hylke Faber is a native of the Netherlands, and currently makes his home in Seattle, Washington. He received a Bachelor of Business Administration from Nijenrode the Netherlands Business School, and a Master of Arts in International Relations from Johns Hopkins University. His work has been featured in the Harvard Business Review among other leading publications. Faber is fluent in English, Dutch, and Frisian, with proficiency in German, French, Spanish, and Italian. He also sings kirtan, a form of East Indian meditation, and leads retreats incorporating "Taming Your Crocodiles" methodology into the practice.
For more information and to register for The Leader as Coach program: https://execedonline.gsb.columbia.edu/online-programs/program/leader-as-coach
To book Hylke Faber as a keynote speaker, presenter, or panelist please visit: http://www.CONSTANCEE.com or contact: info@constancee.com.
"Taming Your Crocodiles" is available at Amazon, Barnes & Noble, and other major booksellers.
Related Articles View More Books

Stories
More Hot Stories For You