The Law of Attraction for Kids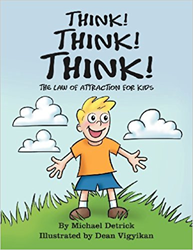 The Law of Attraction is the idea that people have the ability to attract into their lives whatever they are focusing on. It uses the mind's power to translate thoughts into reality. The theory is that, if one focuses on negative thoughts, they attract negativity and, if one thinks positively, they attract positivity and achieve goals.
In "Think! Think! Think!: The Law of Attraction for Kids," author Michael Detrick demonstrates the power of positive thinking, in a children's book with vivid, colorful illustrations and a simple message.
"As a parent and grandparent, I have always been aware of how difficult it is to teach or share ideas with children if you don't have any teaching tools," Detrick said. "After searching for a children's book with inspirational and positive messages about the Law of Attraction and finding none that impressed me, I knew I had to create the tool I needed."
Detrick has a bachelor's degree in Metaphysical Science and over 20 years' experience working in nutrition and natural health. In his new book, Detrick's main character tells the story of how he handles fearful emotions and negative thoughts, when confronted with "Wooly" the bully. As the character shifts his thoughts from fear and panic to powerful, positive thoughts, he is able to calm himself and deal with Wooly in a friendly, constructive way.
"I have been a student and teacher of science-based, natural health and nutrition for over two decades," Detrick said. "I have always been fascinated by the subject of how powerful our minds are and how thoughts relate to how our lives unfold."
"Think! Think! Think!"
By Michael Detrick
ISBN: 978-1-5043-9183-2
Available at Balboa Press and Amazon
About the author
Author Michael Detrick lived in several countries while growing up, which instilled in him a great love for all people and cultures. He discovered his passion for creative writing at a young age. His mission is to share inspiring truths with the youth of the world. He enjoys his work in Integrative Medicine along with his doctoral studies in Metaphysical Counseling. Dean Vigyikan, from Western New York, created the book's artwork. He grew up studying drawing and painting and received his Bachelor of Fine Arts degree from Rochester Institute of Technology. Vigyikan's paintings, drawings, and sculptures can be seen at http://www.deanvigyikan.com. For more about the author and his work, visit: https://www.balboapress.com/Bookstore/BookDetail.aspx?BookId=SKU-000952882.
Review Copies & Interview Requests:
LAVIDGE - Indianapolis
Lindsey Gobel
317.435.2116
lgobel@lavidge.com
Related Articles View More Books

Stories
More Hot Stories For You