The Fourth-Annual ZEE JLF at Boulder Takes Place this Weekend...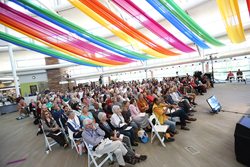 The fourth installation of
ZEE JLF at Boulder
, produced by
Teamwork Arts,
brings more than 60 authors from around the world to the city of Boulder this weekend, to explore today's hot topics while engaging the community in essential dialogue. ZEE JLF at Boulder is in association with Boulder Library Foundation, the City of Boulder, and Boulder Public Library. The Festival is free and open to the public. Register to attend at
[https://jaipurliteraturefestival.org/boulder/registration.
ZEE JLF at Boulder is a part of Teamwork Arts' larger umbrella of JLF in the USA, which also includes JLF at Houston on September 14-15 and JLF at New York on September 20.
A festival of literature from all over the world, ZEE JLF at Boulder is an event unlike any other. In an uplifting celebration of the mind and heart, writers and thinkers from the Americas, Asia, Africa, and Europe take part in provocative conversations about life and society, economics and the arts, equity, freedom, and the care of our planet. In these critical times, the penetrating, intercultural dialogue speaks deeply to individuals, and gives rise to the joy of community.
"During the Festival, writers inspire each other, while the audience gets to listen in on their conversations about relevant topics," says Jessie Friedman executive director for ZEE JLF at Boulder. "These are genuine discussions rather than a book reading or performance. We are effectively allowing the audience in the U.S. to experience what's on the minds of people throughout the world, bringing new perspectives and insights."
"Boulder is the perfect host city to explore new ideas and debate contentious issues from race and religion to history and philosophy," said Sanjoy K. Roy, Producer ZEE JLF at Boulder and Managing Director of Teamwork Arts. "We were delighted with the success of the past three years and look forward to another exciting Festival this weekend."
Mr. Sameer Targe, CEO - Americas, Zee Entertainment Enterprises Ltd. says, "Zee Entertainment as a company upholds high values on the importance of literature. Zee Entertainment nobly calls 173 countries home & speaks 19 different languages. The ZEE Jaipur Literature Festival in India is often called 'the greatest literary show on Earth' and we are delighted to partner with the producers Teamwork Arts to also present the fourth edition of ZEE JLF at Boulder in Colorado, for American audiences. Along with the Festival, we at ZEE Entertainment soundly believe in the importance of and spreading conversations around literature amongst all generations, which is truly how we'll be "Extraordinary Together."
Participating speakers include British-American author and journalist Simon Winchester; forensic anthropologist, academic and creator of the popular TV series Bones, Kathy Reichs; award winning Nigerian writer Chigozie Obioma; one of the most exciting young historians writing today and Coolidge Professor of History at Harvard, Maya Jasanoff; Theoretical astrophysicist Priyamvada Natarajan; Writer and journalist Jeff Goodell; Nassim Nicholas Taleb, the Lebanese-American essayist, scholar, statistician, and risk analyst, described as the "hottest thinker in the world"; and award-winning Harvard professor Michael Puett, among others. See bios here.
With more than 40 sessions across three days, the program features discussions appealing to a wide range of interests including indigenous cultures worldwide; global warming, water and climate change; the geopolitical jigsaws, culture and identity of the trans-Himalayan belt; immigration, ethno-cultral politics and race; biographies and biographers; feminism, poetry and the craft of storytelling, among others.
A host of family friendly workshops and events will also take place, suitable for both children and their parents, including:

Cultural Stories and Movement: A performance by the Cleo Parker Robinson Dance Ensemble. A journey to explore cultural stories through movement, performance, interactive storytelling, and dance. Geared towards K-2nd grade students and their families.
Round the World Storytime with Krissy Jensen: Families celebrate world cultures through books, music, and play in this interactive story time for all ages.
It Started As a Whisper: Where Does Your Inner Poet Reside? with Jovan Mays: Former Aurora Poet Laureate and a National Poetry Slam Champion, Jovan Mays explores poetry to inspire the next generation of authors.
About ZEE JLF at Boulder
Teamwork Arts, producers of the ZEE Jaipur Literature Festival, often dubbed "the greatest literary show on Earth," bring an iconic event ZEE JLF at Boulder in association with Boulder Library Foundation, the City of Boulder and Boulder Public Library.
ZEE JLF at Boulder takes place at the Boulder Public Library, 1001 Arapahoe Ave. There is no admission fee, but attendees must register. For more information, confirmed speakers, and registration, visit https://jaipurliteraturefestival.org/boulder.
Related Articles View More Books

Stories
More Hot Stories For You