Memoirs of a Family Man to His Children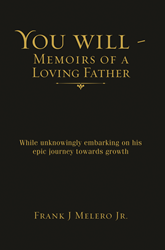 Rooted in love, faith, and family, Frank J Melero Jr. details his personal struggles in life and how he was able to overcome them while sharing lessons to his children and others in "You Will - Memoirs of a Loving Father."
The book started as a set of memoirs for Melero's two children during a dark period in his life. As time passed, he realized that the stories were for more than just his family. The book is entrenched in angst, painful memories, and Melero's struggles with questions about the great unknown, but is more about the realization that love, grace, and hope never die.
"I feel as though a lot of people in society need a change of scenery and even more people don't realize that they're capable of creating such an environment," said Melero. "Rather than playing a victim to what the dummies are doing these days in this place, I actually want to jump on board and do something about it."
"You Will - Memoirs of a Loving Father" goes beyond Melero telling his story. He invites other to share their stories with the world too, as nobody is alone everybody is called for greatness.
"You Will - Memoirs of a Loving Father"
By Frank J Melero Jr.
ISBN: 9781483476216 (softcover); 9781483476209 (eBook)
Available at the Lulu Online Bookstore, Amazon and Barnes & Noble
About the author
Frank J Melero Jr. is a proud and loving father of two mighty fine children - Isabella Mia Melero and Francisco J. Melero #3. He also happens to have a pretty big crush on my lovely wife Elsa Melero. Melero loves all things music, motors and outdoors and sports related. To learn more, please visit http://www.frankmelero.com.
General Inquiries:
LAVIDGE - Phoenix
Bryan Beach
480-306-6554
bbeach(at)lavidge(dot)com
Related Articles View More Books

Stories
More Hot Stories For You