London-Based Singer-Songwriter Releases Debut Collection of Poetry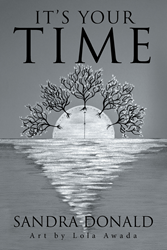 A U.K.-based singer-songwriter has published her debut collection of poetry, which reflects on life's challenges, uplifts those who need healing and explores the depths of the human spirit. In "It's Your Time," author Sandra Donald presents an unfettered perspective on the true magic of faith and spiritual nourishment in times of despair.
Many of Donald's poems are inspired by her own painful life experiences and triumphant successes. Raised a ward of the local authority in the U.K., Donald grew up facing bullies, loneliness, depression and loss, ultimately turning to music and writing as a creative outlet amid dire circumstances. After the death of her mother, Donald began to pursue songwriting more passionately and released her debut album, "How Could You," under the moniker D'Casio in March 2017.
"This book is meant to be a place to unwind, be intense, be in love or out of love, be thoughtful, even cry," Donald said. "My hope is that, through my words, I can provide readers with a meaningful space and time to explore hope, love, sadness, joy, empowerment and spirituality. This collection of poetry pulls at strings and thoughts, unblocks the blocked and captures the goodness that can come through pain."
Through fluid, musical verses, "It's Your Time" will take readers on an energizing journey through life's spiritual ups and downs, feed their souls and guide them to a place of love, growth and self-acceptance.
"It's Your Time"
By Sandra Donald
ISBN: 978-1-5320-1912-8 (hardback); 978-1-5320-1913-5 (paperback); 978-1-5320-1914-2 (electronic)
Available at the iUniverse Online Bookstore, Barnes & Noble and Amazon
About the author
Sandra Donald is a jazz, R&B and pop singer-songwriter as well as a poet. Donald published her first poem, "My Life Hope," in Soroptimist International's book, "Voices in Verse." A stroke survivor and passionate advocate for women and children, Donald currently resides in London. To learn more, please follow her on Facebook and Twitter.
Review Copies & Interview Requests:
LAVIDGE - Phoenix
Lauren Dickerson
480-998-2600 x 601
ldickerson(at)lavidge.com
General Inquiries:
LAVIDGE - Phoenix
Maggie Driver
480-998-2600 x 584
mdriver(at)lavidge.com
Related Articles View More Books

Stories
More Hot Stories For You