LP Media Group's Donation To Expand Mansfield Public Library's Seed...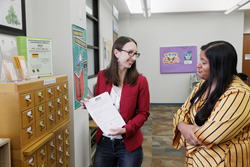 Digital marketing firm
LP Media Group
is helping the Mansfield Public Library grow its seed library, which launched in the first part of 2018. The mini library features more than 30 varieties of vegetable, herb, flower and fruit seeds that patrons can take, along with relevant gardening and seed harvesting books they can borrow to aid them on their horticultural journeys.
"I'm thrilled to be in a position to give back to the library, which is a vital pillar in our community for learning and community connection," said LP Media Group president Lindsey Perkins Wade. "And it's even more rewarding to build off of another local community contribution."
A donation from Mary Elizabeth Phillips of Lil' Blue Goat, a micro art gallery in downtown Mansfield, kick-started the seed library in early 2018. Lil' Blue Goat, which features original art for gardens and more, also sells perennials and its unique creations at the Mansfield Farmers Market.
"We are thankful to have a large donation from Lindsey for the seed library," said Yolanda Botello, director of library services. "This money will go a long way for seeds and allow our community to grow."
The donation fits in with LP Media Group's three guiding principles: people are empowered through learning, everyone has a responsibility to thoughtfully use the resources at their disposal, and more can be achieved working together rather than alone.
Residents can also contribute seeds to the library to help share the fruit of their labor with others.
"With its outstanding leadership and dedicated staff, the library serves as much more than a place that only checks out books," said Perkins Wade. "I'm excited to think about someone discovering a passion for gardening through access to the seed library and related educational programs with experts."
Perkins Wade previously served on the board of the Friends of the Mansfield Public Library, co-chairing the organization's signature event, Mansfield Reads!, and spearheading the group's first North Texas Giving Day effort that resulted in raising more than a quarter of the nonprofit's operating budget in the one-day fundraising event. She has been a Mansfield resident for more than 5 years.
About LP Media Group
Based in Arlington, Texas, LP Media Group is a digital marketing consultancy that primarily serves B2B companies in North America. Founded in 2011 by Lindsey Perkins Wade, the firm provides a suite of services including social media marketing, writing, email marketing, search engine optimization and public relations.
To learn more, visit https://lpmediagroupinc.com/
Related Articles View More Books

Stories
More Hot Stories For You