Former Canadian Beauty Queen Shares a Captivating Story of Trials and...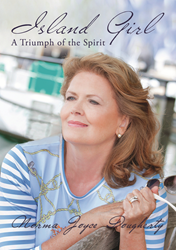 To say that Norma Joyce Dougherty, the author of Island Girl: A Triumph of the Spirit, has lived a life overflowing with perpetual surprises can be an understatement. Born and raised in a humble home in a rustic, secluded island in the eastern part of Canada, Norma, from out of the blue, was plunged into instant worldwide fame when she participated and was crowned as Miss Dominion of Canada-a shy, poor farm girl from a far-flung area suddenly became the "fairest of them all" in the largest country in North America.
From being a "nobody" to "somebody very important" overnight, that, in a nutshell was what had happened to the author early on in her young life. From all indications, it's a real life fairy tale come true. From mud paddies, dirt roads and grassy lands to instant fame, glitz and glamour, and red carpet treatment for an entire year, and most likely, for life. Norma is bound to live happily ever after…but after a while, she discovered that glamour and fame weren't her cup of tea.
Many actual stories on instant fame and fortune typically focused on how people adjusted positively or negatively to the sudden shift into a life of affluence, fortune and other special privileges. For the author, becoming Canada's top beauty queen actually commenced her long, arduous, and very challenging spiritual journey towards authentic contentment, blissful existence, and triumph of the spirit.
Alongside the overarching narrative on an individual's spiritual journey amidst the numerous challenges that people must reckon with to finally reach spiritual contentment and ultimately salvation, the book also touches on a number of the authors' numerous adversities and tribulations as well as her being a victim of traumatic bonding, bullying, and other crimes against women and children. Likewise, a substantial part of the book discusses on the various ways and experiences she had undergone in her life-long search for the ultimate "answers" to all her life/spiritual "questions" and how being able to finally find God allowed her to achieve pure contentment and peace of mind.
All in all, Island Girl: A Triumph of the Spirit is a very refreshing addition to the growing list of autobiographical works that promise-and surely deliver-true reading pleasure and much, much more. Without doubt, after reading this remarkable work, one will likely confirm with more powerful, unbending conviction that not everything that glitters is gold.

Title: Island Girl: A Triumph of the Spirit
Author: Norma Joyce Dougherty
Genre: Inspirational, Autobiography
ISBN: 978-1-595540935 (Paperback); 978-1-595541031 (eBook)
Pages: 336
Publisher: Elm Hill, a division of HarperCollins Christian Publishing, Inc.
Related Articles View More Books

Stories
More Hot Stories For You