Eye-Opening New Book Sheds Positive Light on Chicago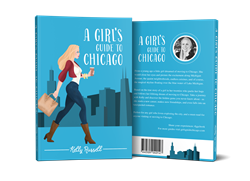 What is unique about this story is that it almost never happened. Months before fulfilling her lifelong dream of moving to Chicago, Kelly was violently mugged at gunpoint. However, despite the violent and dangerous portrayal of Chicago, the mugging actually occurred in a far Suburb of the city.
Having took many of her personal possessions, her assailants stalked and intimidated Kelly into not testifying for months, making it difficult for her to leave the safety of her home in Plainfield, Illinois.
After this incredibly life-changing ordeal, Kelly eventually summed up the courage to leave her parents home and finally move to the city. Still having to always look over her shoulder, Kelly immediately remembered why she fell in love with the city of Chicago. It was the quaint and cozy neighborhoods, amazing cuisines, magical skyline of the city, and of course the endless things to do.
"Being mugged at gunpoint changes you forever. I never thought I'd be able to move to the Chicago. But once I conquered my fears and moved to the city I again realized how remarkable and safe the city was." ~ Kelly Russell
Based on the actual true story, this new book shares how beautiful Chicago truly is and that it's not a dangerous place as it's portrayed to be. What makes the story even more interesting, is that it's also a guide to the most popular and exciting places to visit throughout the city. At the end of the story, you can use Kelly's personal checklist to help you explore the Chicago, and create memories of your own.
Kelly currently resides in the Lakeview neighborhood of Chicago with her husband where she continues to explore the city. In her spare time she loves to create more girl's guides to Chicago on her blog, girlsguidechicago.com.
Paperback and Kindle versions are now available on Amazon.com, Barnes and Noble, and on girlsguidechicago.com
Related Articles View More Books

Stories
More Hot Stories For You