Dr. David Mahjoubi Of The Ketamine Healing Clinic Of L.A. Named 2019...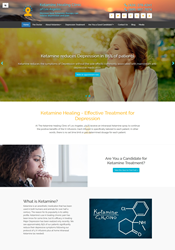 Ketamine Healing Clinic, located at 1964 Westwood Boulevard in Los Angeles, California 90025, provides a highly
effective ketamine treatment
protocol for patients with
depression
, anxiety,
post-traumatic stress disorder
(PTSD) and chronic pain. Board certified anesthesiologist and owner Dr. David Mahjoubi is also one of only a few doctors in the country to offer the ketamine nasal spray as a supplementary at-home treatment for depression and chronic pain. As such, Los Angeles Magazine has named Dr. Mahjoubi as a 2019 Top Doctor for the second consecutive year and will recognize the leading physician in the magazine's April issue.
Los Angeles Magazine recognizes physicians following a specialized review process coordinated by Professional Research Services (PRS). The process consists of peer-to-peer surveys and voting from active physicians in Los Angeles County. Advertising does not impact the review process, and inclusion into the category cannot be bought.
As an anesthetic medication, ketamine has been used in both humans and animals for more than half of a century. Valued for its safety, it is non-addictive and well tolerated by patients. Moreover, ketamine's effectiveness in treating chronic pain is widely known, yet its efficacy in treating major depression has been recognized in recent years. Given a unique protocol of IV ketamine, the Advanced Personalized Ketamine Protocol, and the at-home nasal ketamine spray, the Ketamine Healing Clinic has seen approximately 85% of patients experience reduced symptoms of depression. The efficacy rate is even higher in patients with PTSD. Dr. Mahjoubi's unique approach in using ketamine therapy has set him apart both nationally and internationally, as he is one of a few physicians in the world to use IV and nasal ketamine to effectively treat both depression and chronic pain.
"I am deeply grateful to be named a Los Angeles Top Doctor again and to be in the company of such an esteemed group of physicians that I respect and admire. It's a privilege to watch patients experience the enormous benefits of ketamine treatment," says Dr. David Mahjoubi of Ketamine Healing Clinic of Los Angeles.
More About Dr. David Mahjoubi of Ketamine Healing Clinic of Los Angeles:
David Mahjoubi, MD, is a Diplomate of the American Board of Anesthesiology. He earned his Doctor of Medicine at The Chicago Medical School. Dr. Mahjoubi carries over a decade of experience with intravenous ketamine, beginning from his residency training at the University of Southern California (USC) + Los Angeles County Medical Center. He is the author of multiple publications in the medical field and holds high honors from his educational years. Following his residency, Dr. Mahjoubi joined the Anesthesia Group at Northridge Hospital Medical Center and became the most active user of IV ketamine for both conscious sedation and general anesthesia cases. After working at surgical centers throughout Southern California, he quickly noted the beneficial mental health effects of IV ketamine in many patients post-procedurally. Ketamine Healing Clinic of Los Angeles was thus founded, and now provides a highly effective treatment for patients suffering from treatment-resistant depression and chronic pain.
To learn more about IV or intranasal ketamine treatment from Dr. David Mahjoubi, please contact his Los Angeles clinic at (424) 278-4241 or visit the following website at http://www.ketaminehealing.com.
Prepared by Find Local Company

Related Articles View More Books

Stories
More Hot Stories For You